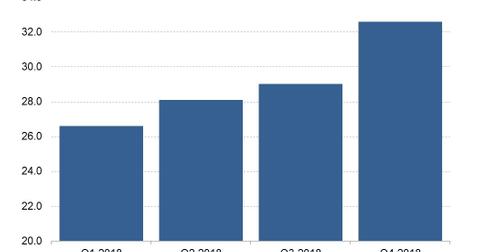 European Union Puts More Pressure on Google
By Ruchi Gupta

Updated
EU publishers can demand compensation from Google
This month, EU governments approved new copyright rules that will add to the compliance challenges that Google (GOOGL) and other Internet companies face in Europe. Under the new copyright rules, Google and Facebook (FB) will be required to seek permission from media publishers such as music labels and news outlets before using their work. Google and Facebook may have to compensate publishers for use of their work.
In addition, Google, Facebook, and other operators of digital sharing platforms will have to install filters to prevent people from uploading copyrighted content to their platforms. These requirements may mean additional costs for Google.
Article continues below advertisement
Google warned of service shutdown
For Google, the new EU copyright rules are expected to impact its news service significantly, as news organizations can now demand compensation for summaries of their stories being displayed in Google news search results. Google warned last year that it may shut down its news search service in EU countries because of the copyright rules, according to The Guardian. In 2014, Google shut down its news service in Spain after the country adopted copyright rules the company found difficult to comply with.
Advertising business powers Google
Google derives the vast majority of its revenue from advertising. The company's advertising revenue increased 20% YoY (year-over-year) to $32.6 billion in the fourth quarter, while Facebook's, Twitter's (TWTR), Yelp's (YELP), and Baidu's (BIDU) advertising revenue grew 30%, 23%, 12%, and 10% YoY, respectively.