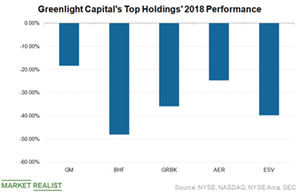 The Biggest Detractors for Einhorn's Greenlight in 2018
Greenlight Capital's largest holdings
Greenlight Capital's (GLRE) largest holdings at the end of the fourth quarter included General Motors (GM), Green Brick Partners (GRBK), AerCap Holdings (AER), and Brighthouse Financial (BHF), which accounted for 28.9%, 12.6%, 11.0%, and 7.3% of its total holdings, respectively. These four stocks fell 18%, 36%, 25%, and 48%, respectively, in 2018.
Greenlight founder David Einhorn is also short on Tesla (TSLA), which rose 6.9% in 2018.
Article continues below advertisement
Biggest contributors and detractors
Overall, in 2018, the most significant contributors to the fund's gains included Micron Technology (MU) and Twitter (TWTR), while the biggest detractors included Adient (ADNT), Bayer (BAYRY), and Brighthouse. The fund's short positions in Advanced Micro Devices (AMD), DexCom (DXCM), Netflix (NFLX), and Tesla (TSLA) also led to the drag.
Brighthouse Financial and Ensco
During the company's fourth-quarter conference call, Einhorn said, "Brighthouse Financial was our biggest detractor in the fourth quarter." BHF fell 31% in the fourth quarter despite positive third-quarter results. Even BHF's management was positive on the outlook for the company and said it was performing much better than had been expected a year earlier.
BHF announced its fourth-quarter earnings results, which came in stronger than expected, in February. Einhorn remains positive on the continued improvement in BHF's results. He said, "As the company ends its reliance on MetLife for transition services, modifies its hedging program and adopts NAIC accounting reforms." BHF has returned 23% year-to-date as of March 7. It's significantly outperformed the S&P 500 Index's (SPY) gain of 10.0% and the Dow Jones Industrial Average's (DIA) gain of 9.3%.
Ensco (ESV) was Greenlight's second-largest detractor during the fourth quarter. Einhorn said, "The stock fell nearly 58% as the price of crude oil tumbled." The offshore rig operator was knocked down by the oil price (XLE) collapse and a generally negative global sentiment.
In the next article, we'll discuss more of Greenlight's prominent positions and how they contributed to the fund in 2018.