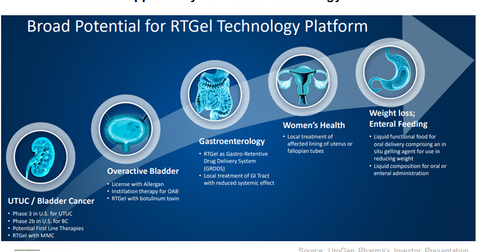 Robust Urology Pipeline Could Drive UroGen Pharma's Stock Price
By Margaret Patrick

Updated
UroGen Pharma's business trends
UroGen Pharma (URGN) is a biopharmaceutical company focused on advancing investigational therapies. These therapies include UGN-101, UGN-102, and UGN-201 in multiple urology and uro-oncology indications. These indications include low-grade upper tract urothelial carcinoma (or UTUC), low-grade non-muscle invasive bladder cancer (or NMIBC), carcinoma in situ bladder cancer, and overactive bladder.
UroGen Pharma noted that it has developed RTGel, a hydrogel-based platform technology. RTGel has applications in indications in areas such as urology, gastroenterology, women's health, and weight loss or enteral feeding. The chart below highlights the commercial potential of the RTGel technology platform.
Article continues below advertisement
UroGen Pharma (URGN) has also secured orphan drug designation and fast-track designation from the FDA for UGN-101. UGN-101 is the company's investigational therapy in first-line low-grade UTUC indications. The company is expecting top-line data from this drug's Phase 3 trial in the second half of the year. 
The company also expects top-line data from its Phase 2b trial evaluating UGN-102 in NMIBC indication in the first half of 2019. According to UroGen Pharma's second-quarter conference call on August 14, the company expects UGN-101 and UGN-102 to prove to be first of the non-surgical therapies in their respective urology indications.
Target price
The 12-month consensus analyst recommendation for UroGen Pharma (URGN) on September 25 is a "strong buy." The company's 12-month consensus target price is $72.60, which is 48.47% higher than its closing price on September 25. The highest target price estimate for the company is $75.00, and the lowest target price estimate is $70.00.
Of the six analysts covering UroGen Pharma in September, four analysts recommended the company as a "strong buy," and two analysts recommended the company as a "buy."
UroGen Pharma has cash and cash equivalents of $119.1 million on its balance sheet. The company expects these funds to sustain its operations until the end of the first half of 2019.
In the final article of this series, we'll discuss the growth prospects for Vericel Corp.