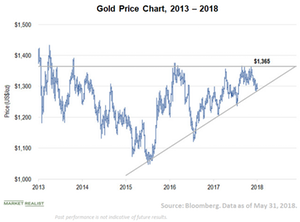 Why H1 2018 Should Be Interesting for the Gold Market
By VanEck

Updated
VanEck
The $1,365 Question
The second half of 2018 should be very interesting for the gold market. The chart shows the gold price has formed a wedge or pennant pattern that has been in place for several years. The positive aspect of this pattern is the trend of higher lows. Fundamentally, gold has been resilient, gaining strength from escalating geopolitical risks and uncertainties. The negative aspect is the ceiling that has formed around $1,365. There has not been a strong catalyst to take gold to a new higher trend line. Investors have been frustrated by this range bound price action, while speculators have been put off by the decreasing volatility. The apex of the wedge occurs in early 2019; therefore, we believe it is inevitable that gold will begin to establish a new trading pattern by year end. Similar patterns can be seen in the GDM and MVGDXJ indices and the price of silver.
Article continues below advertisement
Market Realist
Gold is facing headwinds
Gold (IAU)(GLD) has been resilient this year despite headwinds. Worries about rising interest rates were a major factor depressing gold prices over the past few weeks. A broader sell-off in the commodity market also weighed on gold (SGOL). The heightened trade dispute between the United States and its major trading partners has, so far, failed to boost gold prices. With the rise in pessimism toward the precious metal, traders have also reduced their long positions on gold. According to the latest data from the Commodity Futures Trading Commission, speculative traders on the Chicago Mercantile Exchange reduced their net-long positions in gold to 76,700 contracts for the week ended June 30, compared to 120,200 two weeks earlier.
A case for optimism
However, an escalating trade dispute between the United States and China, rising inflation and interest rates, and a multi-year bull rally in the stock markets has left many investors wondering about how long the optimism will continue. These concerns are expected to play out more strongly in the second half of 2018. As a defensive measure, gold (BAR)(OUNZ) could offer protection against the growing uncertainties in these areas.