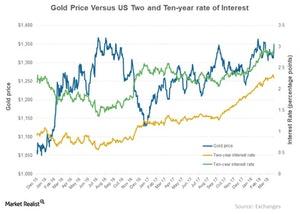 How the Federal Reserve's April Meeting Impacted Precious Metals
By Meera Shawn

Updated
Federal outcome
The two-day April meeting of the Federal Reserve had the expected outcome, and the FOMC members refrained from raising the interest rates any further. The Fed members highlighted that inflation has moved closer to its 2.0% target. They added that "on a 12-month basis is expected to run near the (policy-setting) Committee's symmetric 2 percent objective over the medium term."
The recent growth of the economy seemed to have decelerated, and the job numbers were not strong. As a result, the outlook for four interest rate hikes in 2018 remains constant. Overall, the meeting appeared dovish, although the results were expected.
Article continues below advertisement
Inverse relationship
The chart above shows the relationship of gold (GLD) to the US two-year and ten-year interest rates (SHY)(IEF). The inverse relationship between the two is not exact, and they tend to deviate from each other. Over the last six months, however, interest rates and gold have both trended upward.
Precious metals such as gold are a store of value assets and have no intermediary cash flows. So, the surge in interest rates offered on Treasuries could subdue the demand for these metals. Platinum, palladium, and silver are also utilized for a variety of industrial uses.
The mining stocks that fell on May 2 include Agnico-Eagle Mines (AEM), Barrick Gold (ABX), Royal Gold (RGLD), and Cia De Minas Buenaventura (BVN). These stocks fell 0.36%, 0.52%, 0.73%, and 4.1%, respectively.