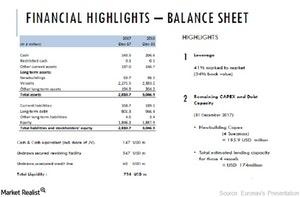 Euronav and Gener8 Maritime Partners' Merger
<p>On December 21, 2017, Euronav (EURN) and Gener8 Maritime Partners (GNRT) announced a stock-for-stock merger.</p>
Merger
On December 21, 2017, Euronav (EURN) and Gener8 Maritime Partners (GNRT) announced a stock-for-stock merger for all of Gener8 Maritime Partners' issued and outstanding shares. After the merger, Gener8 Maritime Partners will become a wholly owned subsidiary of Euronav. On the day the merger was announced, Gener8 Maritime Partners' stock rose more than 40%. On the same day, Gener8 Maritime Partners' peers Teekay Tankers (TNK), Frontline (FRO), and Nordic American Tankers (NAT) saw their stock prices fall.
Euronav and the combined company will remain listed on the NYSE and Euronext under the ticker "EURN." The combined company will operate 75 crude tankers, which consist of 44 VLCCs (very large crude carriers) and 28 Suezmax crude tankers. The vessels' total capacity is 18 million deadweight tonnage.
Article continues below advertisement
Article continues below advertisement
Balance sheet
The combined company's balance sheet will have assets over $4 billion. The balance sheet will have marked-to-market leverage of less than 50% and liquidity of more than $750 million.
Other details
As part of the merger, Euronav decided to sell six of Gener8 Maritime Partners' vessels. In the conference call, analysts asked about the main intention behind selling the vessels. Euronav is trying to balance leverage and liquidity with the fleet acquisition.
Decision
The merger decision is still pending. The merger will require approval from most of Gener8 Maritime Partners' shareholders. If the deal is terminated under certain circumstances, Gener8 Maritime Partners might be required to pay $39 million as a termination fee to Euronav.