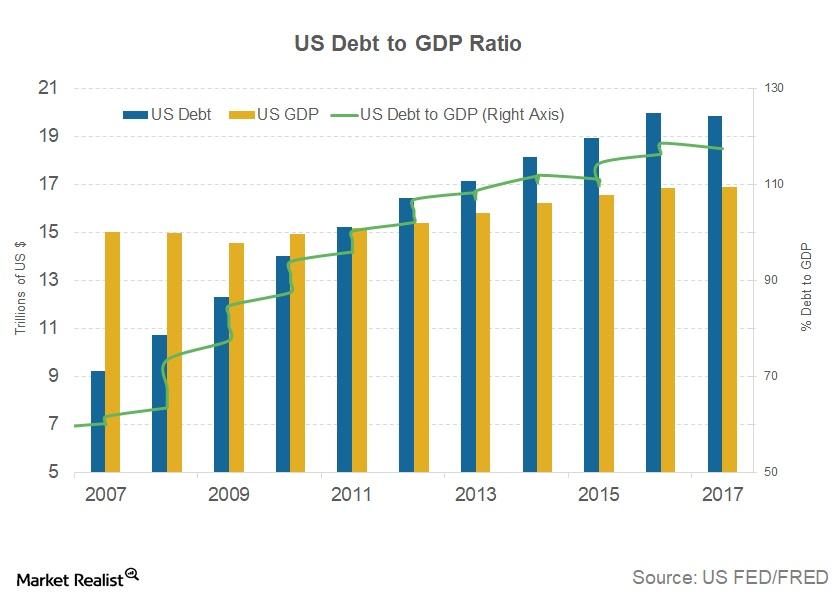 Your Guide to the US Debt Ceiling
The history of the US debt ceiling
The debt ceiling is a limit set by US Congress on how much debt the US federal government can carry at any given time. The first known creation of debt ceiling dates to 1917, when the US Treasury Department was allowed to issue bonds to fund expenses during World War I. In 1974, through the Budget Control Act, the current budget process came into effect. Congress sets the limits on government spending, and funds that are required to run the economy are generated through taxes. But when there's a deficit, the US government borrows funds by issuing debt in the form of government (GOVT) bonds. These borrowings—along with interest—must be paid back when the bonds mature. Over the last few decades, the borrowings have increased more than the receipts of the US economy, leading to the huge levels of US debt.
Article continues below advertisement
The current level of US debt
As per usdebtclock.org, the current level of US national debt exceeds $20 trillion, which is $63,000 in debt per US citizen and $173,000 per taxpayer. The last breach of Congress's debt ceiling was in September 2017, when President Trump approved a bill to increase the debt ceiling to $20.45 trillion until December 8, 2017. This limit is likely to be breached on January 19, and once that happens, the US Treasury must stop issuing any new debt (SHY) and only use funds collected through taxes to run the economy.
Throughout this series, we'll elaborate on the looming US debt crisis, how US debt has increased to such alarming levels, and the implications for the equity (SPY), currency (UUP), and fixed income (BND) markets if an agreement isn't reached between both parties to increase the debt ceiling by January 19.