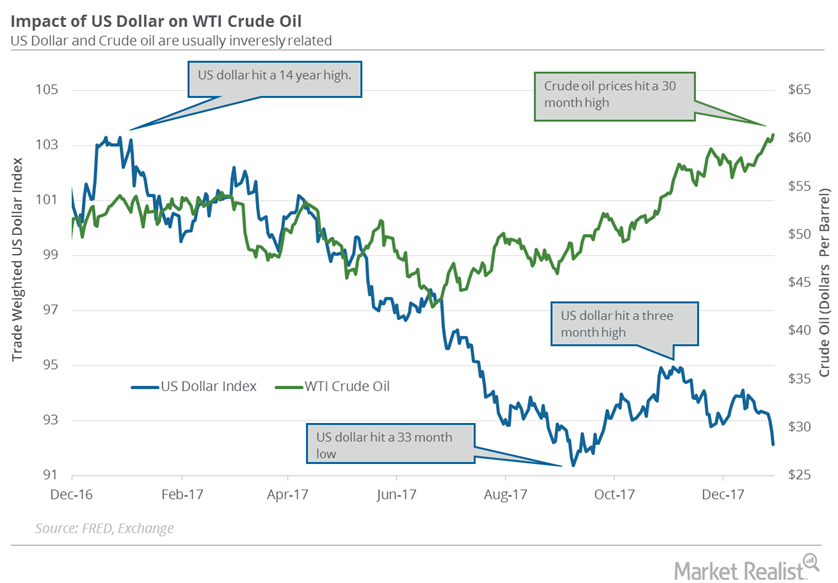 Will the US Dollar Help Crude Oil Bulls or Bears in 2018?
US dollar  
The US Dollar Index fell 0.5% to 92.12 on December 29, 2017—the fourth consecutive day of losses. It's near a three-month low. The depreciating dollar supported crude oil (USL) (SCO) prices last week. Higher oil prices favor funds like the SPDR S&P Oil & Gas Exploration & Production ETF (XOP).
The US Dollar Index fell ~9.8% in 2017. It was the worst annual fall since 2003. It also supported oil (DBO) prices last year. US crude oil prices rose ~12.4% in 2017. The dollar fell due to the improving economy outside the US.
Article continues below advertisement
US dollar's lows and highs  
The US dollar (UUP) tested 91.3 on September 8, 2017—the lowest level in nearly three years. It impacts the PowerShares DB US Dollar Bullish ETF (UUP), which tracks the US dollar's performance. In contrast, the US dollar tested 103.8 on January 3, 2017. It was the highest level in nearly 15 years.
US dollar and crude oil 
Crude oil is a dollar-denominated commodity. A depreciating dollar makes crude oil economical for crude oil importers. So, crude oil (USO) prices rise. Higher oil (DWT) prices favor energy companies (FXN) (IYE) like Laredo Petroleum (LPI), Baytex Energy (BTE), and Goodrich Petroleum (GDP).
On the other hand, an appreciating dollar makes crude oil expensive for oil importers. So, crude oil prices (USL) (DWT) fall.
Impact  
The Fed might increase the US interest rate three times in 2018, which could drive the US dollar higher. However, the fall in stimulus from other major central banks in 2018 could see the US dollar lag its peers. The European Central Bank could raise interest rates by the end of 2018. The euro rose 14% in 2017—the best annual increase since 2003. It was also the best performance against the US dollar in 14 years. Any change in the US dollar could be reflected in oil (UWT) prices.
Next, we'll discuss how Cushing inventories impact oil prices.