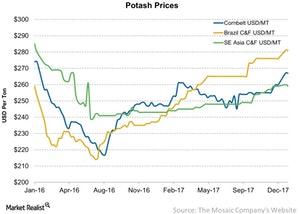 Analyzing Potash Prices in the Week Ending January 12
Potash prices
Potash is the third most important crop nutrient consumed globally. According to the IFA (International Fertilizer Industry Association), potash fertilizer accounted for almost 17% of the total global NPK consumption in the 2015–2016 planting season. Among the different types of potash fertilizers, MOP (muriate of potash) is used the most.
Article continues below advertisement
Article continues below advertisement
Weekly movements
Potash fertilizers are available in granular and standard grade. The prices of granular potash at three of the locations above were broadly flat week-over-week. Potash prices in the US Cornbelt region moved sideways to $242 per metric ton last week. Potash prices in NOLA (New Orleans) also moved sideways to $211 per metric ton week-over-week. In Brazil, potash prices were flat at $281 per metric ton in the week ending January 12.
Prices for the standard grade of potash in South East Asia fell week-over-week to $259 per metric ton from $260 per metric ton last week.
Yearly movements
YoY (year-over-year), the potash prices at each of the above locations have held steady, which is positive for producers (MOO) like Nutrien (NTR), Mosaic (MOS), Intrepid Potash (IPI), and Israel Chemicals (ICL). In the Cornbelt region, potash prices rose 8% YoY. In the NOLA region, prices rose 10% YoY, while potash prices in Brazil rose as much as 17% YoY. Last week, standard potash prices in South East Asia were 7% higher YoY.