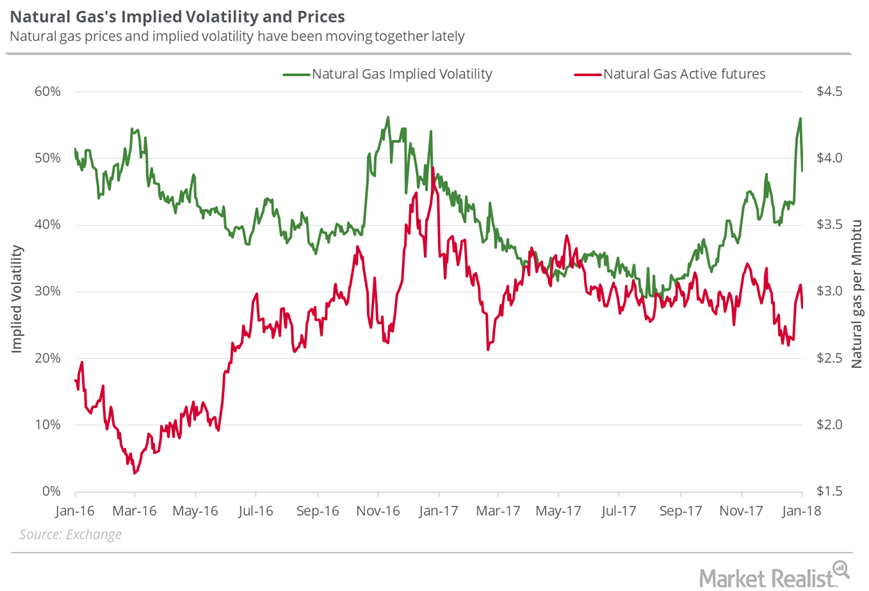 Possible Downside in Natural Gas Next Week
Implied volatility
On January 4, 2018, natural gas's implied volatility was 48.1%—6.4% above its 15-day average.
On December 21, 2017, natural gas prices closed at the lowest closing level since February 23, 2017. Since that day, natural gas futures have risen 11.1%. The implied volatility has risen 13.4%. Sudden moves in prices increase the underlying implied volatility. Natural gas has seen bouts of sharp spikes lately.
Article continues below advertisement
Natural gas prices
At a probability of 68%, natural gas (GASL) (GASX) futures' closing price could be between $2.69 and $3.07 per MMBtu until January 11, 2018. The model is based on the assumption that prices are normally distributed. The price range is based on natural gas's current implied volatility of 48.1%.
On January 4, 2018, natural gas futures were at $2.88 per MMBtu. A relatively higher implied volatility in natural gas prices could concern investors in ETFs like the United States Natural Gas ETF (UNG), the ProShares Ultra Bloomberg Natural Gas (BOIL), and the First Trust ISE-Revere Natural Gas ETF (FCG) because they have exposure to natural gas prices.