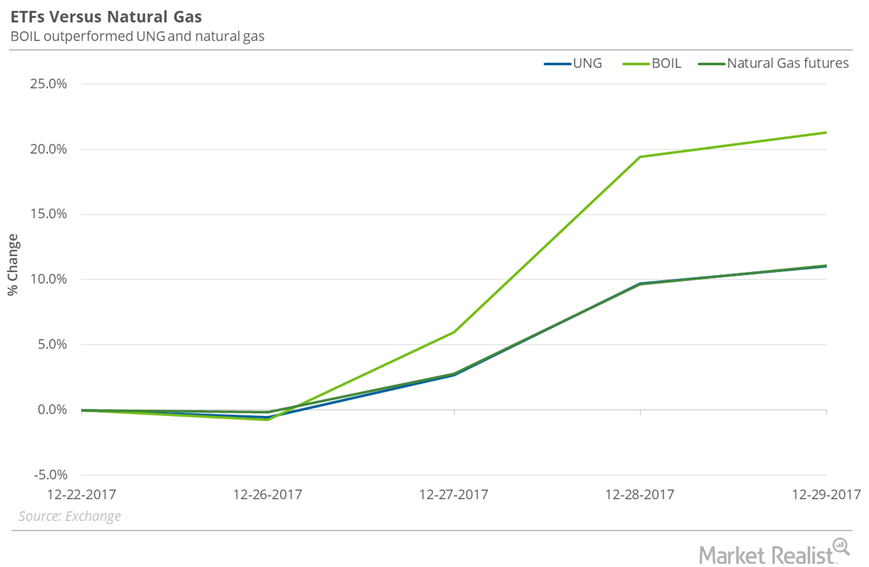 Natural Gas ETFs to Watch in 2018
Natural gas ETFs
On December 22–29, the United States Natural Gas Fund (UNG), which holds natural gas futures, rose 11%. UNG's rise was 10 basis points less than the rise in natural gas February futures during this period.
During this period, the ProShares Ultra Bloomberg Natural Gas ETF (BOIL) rose 21.3%. Its objective was to match twice the daily changes of the Bloomberg Natural Gas Subindex. So, BOIL might be the best bet for any possible upside in natural gas prices in 2018.
Article continues below advertisement
March 2016
Between March 3, 2016, and December 29, 2017, natural gas active futures rose 80.2%. Natural gas (GASL) (FCG) (GASX) active futures closed at $1.64 per MMBtu on March 3, 2016—the lowest closing price in 17 years. UNG rose 0.7%, while BOIL fell 26.5% from this date.
The difference in ETFs' returns compared to natural gas might have been due to active futures trading less than next month's futures or the negative roll yield.
On December 29, 2017, the closing prices of natural gas futures contracts between March 2018 and May 2018 were progressively lower. It might help these ETFs gain more.
In BOIL's case, the actual and expected returns could be different due to daily price changes.