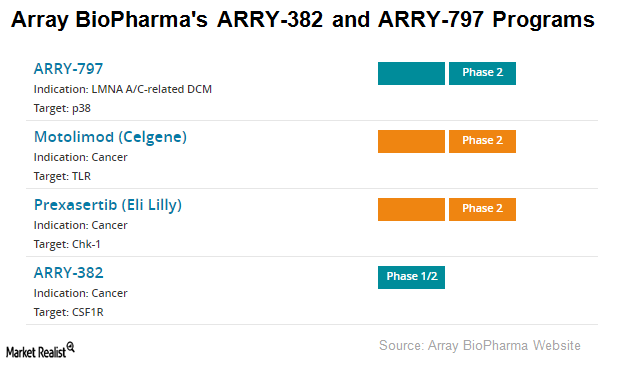 Array BioPharma's ARRY-382 and ARRY-797
ARRY-382 and ARRY-797 programs
Array BioPharma (ARRY) completed its Phase 1b clinical trial of its investigational drug candidate ARRY-382 in combination with Merck & Co.'s (MRK) Keytruda for advanced tumor indications. On November 13, 2017, Array reported data from this trial and established the appropriate dose for the combination for a Phase 2 study.
The combination is being studied in another Phase 2 study in advanced solid tumor indications. ARRY-382 is a small molecule inhibitor of CSF-1R kinase activity.
Article continues below advertisement
Article continues below advertisement
Array BioPharma also plans to begin a Phase 3 trial of ARRY-797 in patients with LMNA A/C related dilated cardiomyopathy, a rare degenerative cardiovascular disease. ARRY-797 is an oral selective p38 MAPK (mitogen-activated protein kinase) inhibitor. On December 21, 2017, Array BioPharma launched a spinoff, Yarra Therapeutics, to develop drugs for rare diseases. Yarra received assets related to the ARRY-797 program.
 Geographic contribution
Of the total revenues of $29.7 million in 1Q18, Array BioPharma derived $22.2 million from Europe. North America contributed $5.5 million, and Asia-Pacific contributed a smaller share of $1.9 million.
In comparison, in 1Q17, North America contributed $4 million, Europe contributed $34.3 million, and Asia-Pacific contributed $867,000. The company's total revenue in 1Q17 was $39.2 million.
Article continues below advertisement
Business concentration risk
Array BioPharma derives a significant portion of its revenues from three major companies: Novartis (NVS), Pierre Fabre, and Loxo Oncology (LOXO). Together, these three companies contribute more than 85% to the company's total revenues. Novartis is the biggest contributor, accounting for 61% of Array BioPharma's total revenues in 1Q18. Novartis's revenue contribution was even higher, close to 80%, in 1Q17.
The loss of any one or more of these partners could have a negative impact on Array BioPharma's business.
Stellar stock performance
In the last six months, the share price of Array BioPharma stock has risen from $7.80 at the end of July 2017 to $14.70 on January 25, 2018, a rise of ~90%. In comparison, peers Loxo Oncology (LOXO), Novartis (NVS), and Bristol-Myers Squibb (BMY) have generated returns of 41%, 2.3%, and 13.7%, respectively, in the same period.
Array BioPharma makes up 0.14% of the iShares Russell 2000's (IWM) total portfolio holdings.
In the next and final part of this series, we'll take a look at Array BioPharma's financial performance.