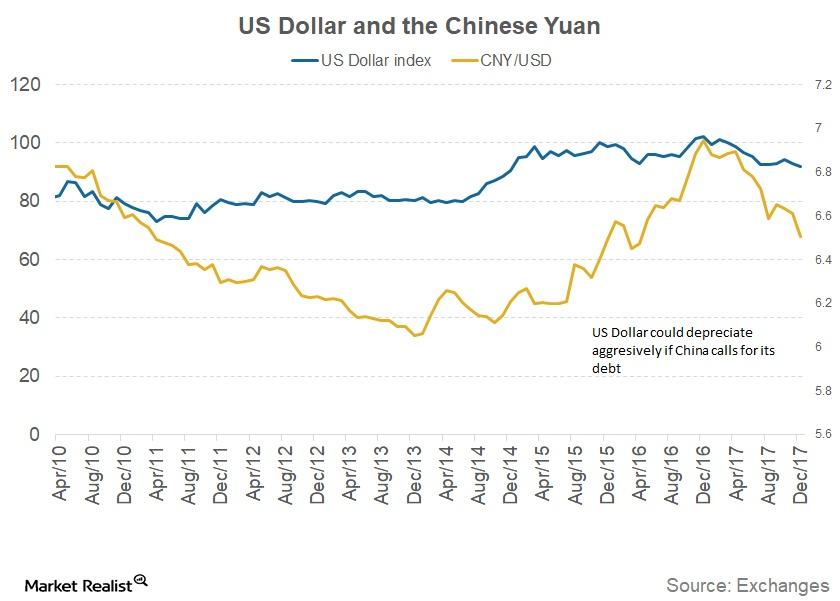 What Could Happen If China Wants Its Money Back?
A disaster the world may not handle
If the Chinese government decides to sell its US debt (GOVT) holdings, it could lead to another possible global financial crisis. Bond prices (BND) in the United States and around the globe would most likely plummet from the redemption. The US dollar (UUP) could depreciate significantly as demand for the dollar in the absence of demand for US Treasuries could drop quickly. When the US dollar falls, it could trigger a massive sell-off in the international markets, and every country, including China (FXI), could suffer the consequences.
Article continues below advertisement
Will China ask for its money back?
It's in China's best interest to not ask for its investments in US debt back. Any such news, like the one we had on January 10, 2018, could create a panic in the financial markets, causing the value of its investments in US Treasuries to fall. Apart from the financial loss, the Chinese economy could witness reduced demand for its exports since China could lose its competitive advantage to countries with a weaker currency.
Conclusion
The possibility of China changing its policy of investing in US debt could be very slim due to the above reasons. The Chinese government could reduce the pace of its US debt (AGG) purchases in the future or even sell some of its debt holdings if it manages to diversify its international customer base and increase domestic demand. It could take many years for that scenario to become a possibility. Most likely, we can expect no major changes in China's debt holdings. China will probably remain the largest creditor to the US economy.