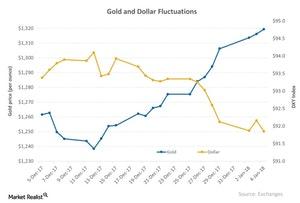 The Dollar and Its Relationship to Precious Metals
Gold and the dollar
As we saw in the previous part of this series, interest rates play a significant role in the price determination of precious metals. So does the US dollar. In 2017, the dollar and gold kept a close-knit relationship. They are inversely related since precious metals are dollar-denominated assets, which means their pricing currency is the dollar. So an investor who wants to buy gold often invests in the dollar first.
A rising dollar doesn't attract investors, so the demand for the dollar and gold could fall substantially. Similarly, a declining dollar attracts more investors to the dollar as well as dollar-based assets.
Article continues below advertisement
Correlation analysis
The US dollar rose 0.18% on Tuesday, January 9, 2018, which led to the lower price of spot gold (GLD) and silver. The US dollar (UUP), depicted by the DXY Index (or DXY), has risen 0.71% during the past five trading days, leading to a 0.52% fall for gold and a 0.75% fall for silver.
If we look at the correlation of gold and the US dollar, it has been -0.48, which suggests that about 48% of the time, gold moved in the opposite direction of the dollar during the past year. Their correlation over the past two years is 0.57, which suggests a fall in the correlation.
Among the funds that closely track the price changes in gold are the Merk Gold ETF (OUNZ) and the PowerShares DB Gold ETF (DGL). These funds have each fallen 0.38% during the past week.
Among the mining shares that declined on January 9, 2018, are Buenaventura Mining (BVN), Kinross Gold (KGC), Randgold Resources (GOLD), and B2Gold (BTG). These miners fell 1.1%, 4.4%, 0.68%, and 2.7%, respectively, that day.