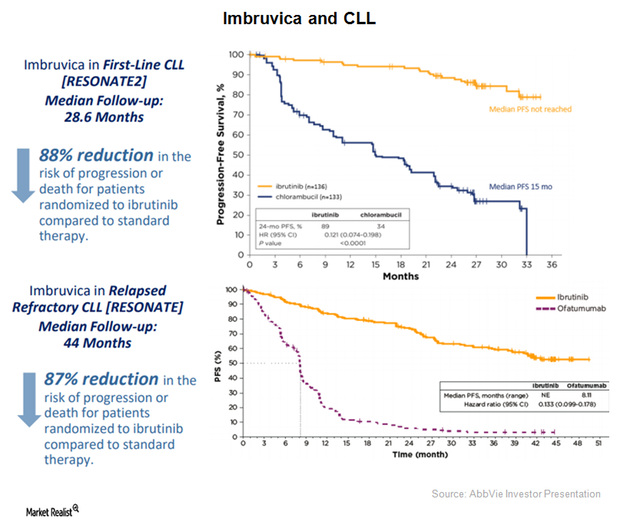 AbbVie Expects Peak Sales of $7 Billion for Imbruvica
Imbruvica in CLL
AbbVie (ABBV) has projected Imbruvica's annual revenues to reach $5 billion by 2020. That would be driven mainly by a rapid uptake in the first line chronic lymphocytic leukemia (or CLL) segment due to its high sustained efficacy, resulting in superior survival compared to the current standard of care regimens. The drug has already changed the treatment paradigm in the second line plus CLL segment and for CLL patients with 17p deletion.
Article continues below advertisement
AbbVie expects that in the future, nearly eight out of ten CLL patients will benefit from an Imbruvica-based therapy at one point or another. The company is also studying this first-in-class Bruton tyrosine kinase (or BTK) inhibitor, either as a monotherapy or in various combination regimens, in the CLL indication across differentiated patient populations such as young and fit patients or wait and watch patients.
AbbVie accounts for 1% of the Vanguard Total Stock Market ETF (VTI).
The above diagram shows clinical trial data that highlight the efficacy of Imbruvica compared to the standard of care therapy in first line and relapsed/refractory CLL. Imbruvica is thus expected to enable AbbVie to pose strong competition to other hematologic oncology players such as Celgene (CELG), Novartis (NVS), and Johnson & Johnson (JNJ).
Other indications
Besides CLL, AbbVie is aiming to position Imbruvica as a monotherapy or in combination regimens as a standard of care in multiple patient segments suffering with non-Hodgkin's lymphoma (or NHL). The drug is currently approved by the FDA (U.S. Food & Drug Administration) for NHL indications such as relapsed/refractory marginal zone lymphoma (or MZL), second line plus mantle cell lymphoma, and first and second line plus Waldenström's macroglobulinemia (or WM).
On August 2, 2017, the FDA approved Imbruvica as a second plus line of therapy for patients suffering with chronic graft versus host disease (or cGVHD).
AbbVie expects Imbruvica to report peak sales of $7 billion in the coming years.
In the next part of this series, we'll look at the growth prospects for Venclexta.