Screening for Dividend Stocks in the Agriculture Sector
Perhaps dividend yield is one of the most common starting points when screening for dividend stocks.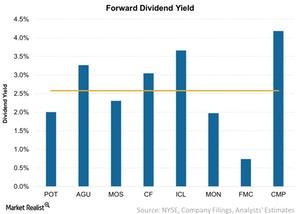 Screening dividend stock
In the previous part of this series, we saw how dividend income for a stock can affect your investment returns. So a discussion on selecting dividend stock will be our next step toward determining our top dividend stock picks within the agriculture industry (MOO).
Article continues below advertisement
Article continues below advertisement
Forward dividend yield
Perhaps dividend yield is one of the most common starting points when screening for dividend stocks. There are several definitions of yield considered by income investors. However, we'll primarily look at forward dividend yield due to its relevance for stock selection.
A forward dividend yield is calculated by taking the latest quarterly dividend payments by a given company and annualizing the payout amount. This amount is then divided by the company's current market share to get a forward dividend yield.
Interpreting forward dividend yield
The forward dividend yield calculated in the above step essentially tells us how much return on investment we can expect in the next year from our investments in that dividend-paying stock today from dividends alone. Naturally, the higher the yield the better.
Note that in our above discussion, the absolute amount of the potential dividend received is not important because it doesn't tell the return potential on investments. However, remember that the dividend yield may change in the future and won't guarantee that return, as we'll see later in this series.
Companies on top
In the above chart, we see the forward dividend yields of eight agriculture stocks. Compass Minerals International (CMP) has the highest forward dividend yield at 4.2%, calculated as the most recent dividend of $0.72 per share times four and then divided by the current share price of $68.90 as of December 11, 2017.
Israel Chemicals (ICL) was next with a forward yield of 3.7%, followed by Agrium's (AGU) yield of 3.3% and CF Industries' (CF) yield of 3.1%. All these companies had a yield above the peer average of 2.6%.
In contrast, the companies below the peer average include Mosaic (MOS) with a forward dividend yield of 2.3%, PotashCorp (POT) with a yield of 2%, Monsanto (MON) with a yield of 2%, and FMC FMC) with a yield of 0.74%.