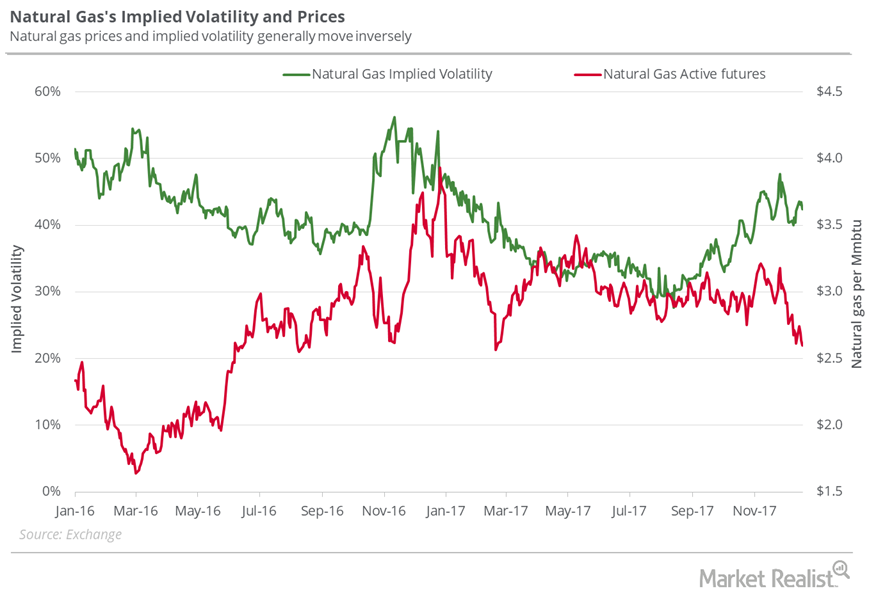 Could Natural Gas Reach a New 2017 Low Next Week?
Implied volatility
On December 21, 2017, natural gas futures' implied volatility was 42.4%. In the last trading session, their implied volatility was on par with the 15-day average.
Article continues below advertisement
Natural gas prices next week
Assuming that natural gas prices are normally distributed, and using their latest implied volatility of 42.4%, natural gas active futures could close between $2.44 and $2.74 per MMBtu (million British thermal units) between December 22 and December 28, 2017. For this price range, the probability is 68%, with a standard deviation of one.
On December 21, 2017, natural gas (GASL) (GASX) February futures closed at $2.60 per MMBtu—1.5% above their 2017 lowest closing price. If natural gas reaches a new 2017 low, then the United States Natural Gas ETF (UNG), the ProShares Ultra Bloomberg Natural Gas ETF (BOIL), and the First Trust ISE-Revere Natural Gas ETF (FCG) could also incur further losses. These ETFs invest in natural gas. Visit our Energy and Power page for energy updates.