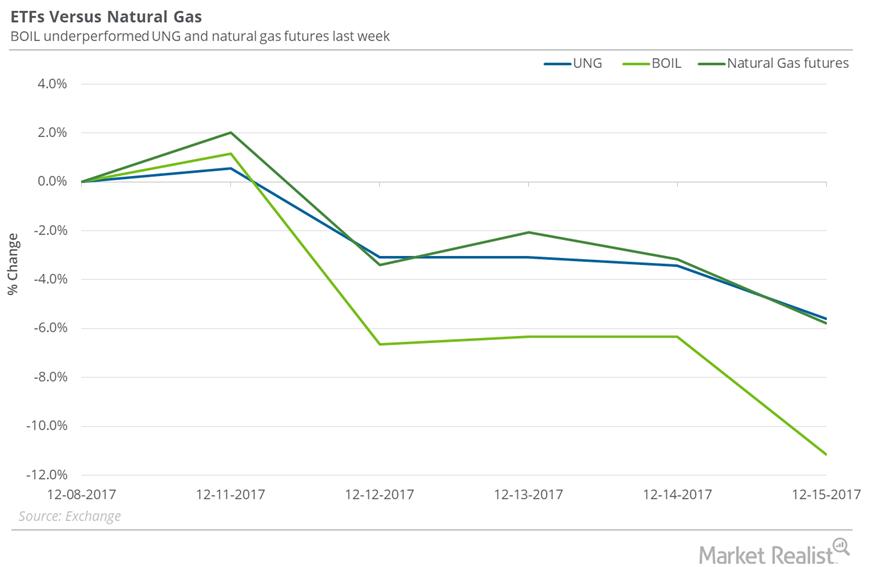 Are Natural Gas ETFs Outperforming the Natural Gas Fall?
Natural gas ETFs
Between December 8 and December 15, the United States Natural Gas Fund (UNG)—which invests in natural gas near-month futures contracts—fell 5.6%. UNG's fall was 20 basis points less than natural gas January 2018 futures' fall over this period. So UNG outperformed natural gas futures with a smaller drop.
The ProShares Ultra Bloomberg Natural Gas ETF (BOIL) fell 50 basis points—less than twice the fall in natural gas futures over this period—as per its objective to meet double the daily ups and downs of the Bloomberg Natural Gas Subindex.
Article continues below advertisement
From March 2016
Between March 3, 2016, and December 15, 2017, US natural gas active futures rose 59.4%. On March 3, 2016, natural gas (GASL)(GASX)(FCG) active futures settled at ~$1.64 per MMBtu, the lowest closing price in the last 17 years. UNG and BOIL fell 9.8% and 39.6% since natural gas's multi-year low.
The difference in natural gas active futures' returns and the ETFs' returns could be because of the negative roll yield. The price difference between two consecutive futures contracts creates the roll yield. If the roll yield is negative because of active futures being priced at less than the next month's futures, it would result in a loss for these ETFs. See Natural Gas: Is the Market Expecting Oversupply? to learn more.
On December 15, natural gas futures contracts' closing prices between February 2018 and April 2018 were in a descending slope. This type of pricing could benefit these ETFs.
Particularly for BOIL, the compounding effect of daily price fluctuations could also cause a difference between actual and expected returns.