What 2017 Meant for Potash Producers
Potash fertilizers Most of the fertilizer companies we've discussed in this series sell all or some of the three NPK (nitrogen, phosphorous, and potassium) macronutrients. To learn more about these macronutrients' key role in agriculture, read Agricultural Fertilizer Industry: Your Comprehensive Overview. In this part, we'll look at what 2017 meant for potash producers. Price trends […]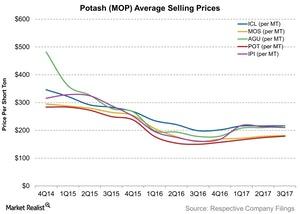 Potash fertilizers
Most of the fertilizer companies we've discussed in this series sell all or some of the three NPK (nitrogen, phosphorous, and potassium) macronutrients. To learn more about these macronutrients' key role in agriculture, read Agricultural Fertilizer Industry: Your Comprehensive Overview. In this part, we'll look at what 2017 meant for potash producers.
Article continues below advertisement
Article continues below advertisement
Price trends
In the first half of 2017, potash prices improved year-over-year, and this momentum continued in the latter half of 2017. In 3Q17, potash prices improved significantly. PotashCorp's (POT) average potash price realization rose 19%, Mosaic's (MOS) rose 14%, Agrium's (AGU) rose 13%, and Intrepid Potash (IPI), which drew more sales from industrial customers than agricultural customers, saw its prices rise 30%. The improvement in potash prices translated into margin improvement for some of these companies.
Why did prices improve?
The potash market (MOO) has fewer players than the nitrogen fertilizer market. Therefore, a tighter supply can balance with demand, and higher affordability can boost prices. The upward price momentum was also driven by spillover demand from last year, when India and China waited to close their potash contracts in anticipation of lower prices. This wait led to lower inventories and created the need to replenish inventories in 2017.
With the prices moving higher in 2017, what could we expect in 2018? Read on to know more.