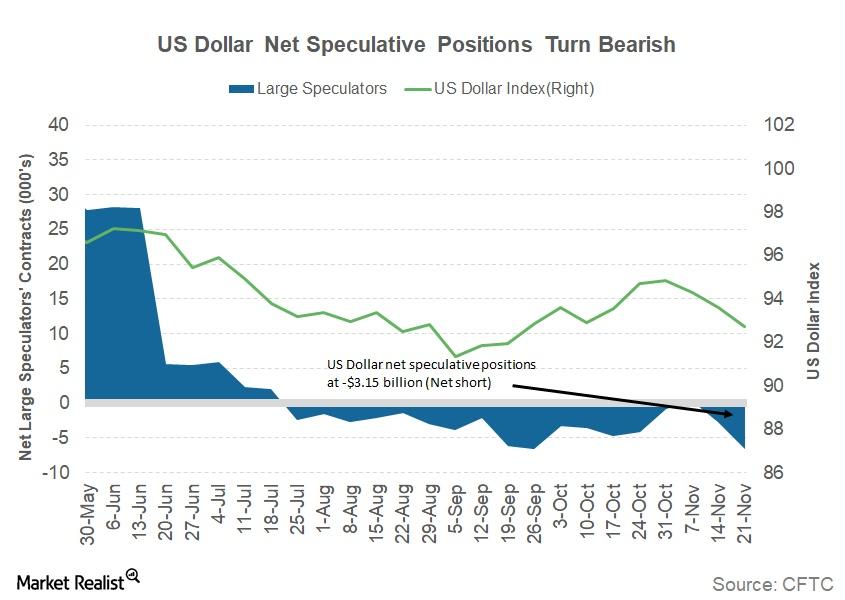 Reasons behind a 3rd Weekly Loss for the US Dollar
US dollar posts 3rd weekly loss
The US Dollar Index (UUP) had another bad week as traders offloaded long dollar positions amid tax reform uncertainty last week. The dovish comments from a few of the FOMC (Federal Open Market Committee) members in the November meeting minutes also added to the US dollar's weakness. The US dollar index closed at 92.7 for the week ended November 24, 2017, the third consecutive weekly loss at 93%.
Economic data from the United States had little to no impact since the focus was on tax reforms. Weekly jobless claims declined, and consumer sentiment improved. A major reason for the US dollar's decline was the concern of FOMC members about lower levels of inflation, which could mean a reduced pace of rate hikes in the future.
Article continues below advertisement
Speculators added bearish bets on the US dollar
According to the latest Commitment of Traders (or COT) report released on November 27, 2017, by the Chicago Futures Trading Commission, large speculators and traders added bearish bets on the US dollar index last week.
According to Reuters, the net US dollar (USDU) net short positions increased to -$3.15 billion compared to -$0.64 billion in the previous week. That amount is a combination of the US dollar's contracts against the combined contracts of the euro (FXE), the British pound (FXB), the Japanese yen (FXY), the Australian dollar (FXA), the Canadian dollar (FXC), and the Swiss franc.
Outlook for the US dollar
For the US dollar, there seems to be no respite in sight this week. Although Congress has returned from the Thanksgiving holiday, the approval of a tax reform bill by the Senate could take time. The Christmas break for Congress begins in less than two weeks. The bill has passed the House of Representatives but hasn't yet passed the Senate. This uncertainty could limit any gains for the US dollar this week. Other economic data scheduled to be released this week may not have much impact on the US dollar.
In the next part of this series, we'll see how bond market investors are becoming anxious about the flattening yield curve.