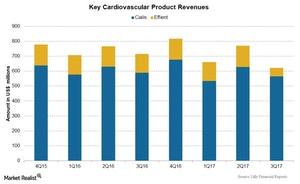 Eli Lilly's Cialis and Other Cardiovascular Products in 3Q17
Cardiovascular franchise
Eli Lilly's (LLY) cardiovascular franchise includes the drugs Cialis and Effient. Cialis is a blockbuster drug with annual sales of over $2.0 billion worldwide, but for 3Q17, both drugs reported lower sales.
Article continues below advertisement
Cialis
Cialis, which is approved for the treatment of erectile dysfunction and benign prostatic hyperplasia, reported revenues of $564.9 million during 3Q17, representing a 4% YoY (year-over-year) fall, compared with $588.2 million in 3Q16.
US sales for Cialis fell 8% due to lower sales and competition from other products. Outside of US markets, the drug's sales rose 2% YoY, driven by an increase in demand.
Effient
Effient, an antiplatelet, is approved in combination with aspirin for preventing blood clots in arteries and stents and helps reduce the chances of heart problems. Effient reported revenues of $55.9 million during 3Q17, representing a 56% YoY fall in revenues, compared with $127.7 million in 3Q16.
Notably, the Vanguard Health Care ETF (VHT) has 40.0% of its total portfolio in pharmaceutical companies. VHT has 2.3% in Eli Lilly (LLY), 4.2% in Merck (MRK), 5.8% in Pfizer (PFE), 10.4% in Johnson & Johnson (JNJ), and 2.7% in Gilead Sciences (GILD).