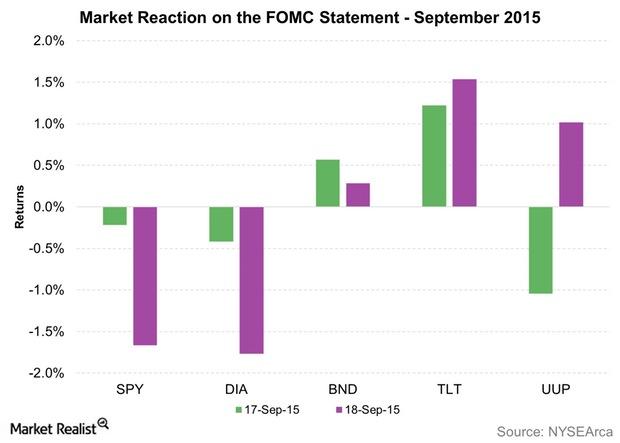 Markets React to the Fed's September 2015 Meeting Statement
By David Ashworth

Oct. 11 2020, Updated 12:33 p.m. ET
Equities fell a little
Equities have been big beneficiaries of the low interest rate regime in the US. For the past month or so, several equity investors anticipated and factored in a rate hike in the stock prices. They got their portfolios ready for the event. However, the hike didn't come about in the September 2015 meeting. This led to a fall in equities. They showed their displeasure over the delay in the rate hike. However, the reaction was muted.
Article continues below advertisement
The SPDR S&P 500 ETF (SPY) and the SPDR Dow Jones Industrial Average ETF Trust (DIA) fell 0.20% and 0.40%, respectively, on September 17, from the previous day. Banks and financial stocks like Citigroup (C), U.S. Bancorp (USB), Bank of America (BAC), and Wells Fargo (WFC) fell in the 1.70%–2.90% range on September 17. These big corporations were expected to gain from a rise in the short-term interest rates.
Fixed income instruments gained
Fixed income instruments reacted positively to the September 2015 meeting statement. Treasury yields across the yield curve fell. This boosted prices due to the inverse relationship between the two. The fall in yields was concentrated in short to medium-term maturities. They saw a double-digit fall in yields. The iShares Barclays 20+ Year Treasury Bond ETF (TLT) tracks the 20 to 30-year maturity segment. It rose 1.20% on September 17.
Meanwhile, the Vanguard Total Bond Market ETF (BND) tracks the broader fixed income market. It rose by 0.60% at the end of that day on September 17, from the previous day.
The US dollar fell
The US dollar, like equities, fell after the release of the September 2015 meeting statement. However, its fall was sharper than equities. The PowerShares DB US Dollar Index Bullish Fund (UUP) fell 1.10% on September 17.
The US dollar was expected to appreciate after a rate hike. Some of that had already been priced in due to the anticipation of a rate hike in this meeting. However, since the Fed didn't raise the federal funds rate, some of the gains were due to the anticipation being reduced.
In the rest of this series, we'll look at the state of major US economic indicators and how the Fed looked at them in the September 2015 meeting. We'll begin with their views on the US economy.