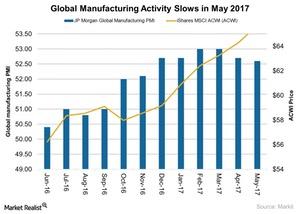 Did Emerging Market Manufacturing Activity Slow in May 2017?
By Mary Sadler

Oct. 11 2020, Updated 11:05 a.m. ET
Global manufacturing activity
The global manufacturing sector (ACWI) (VT) seems to be slowing down as the May 2017 manufacturing PMI registered a three-month low at the beginning of 2Q17. Global economic activity had experienced an uptrend since 4Q16. Specifically, the developed markets (SPY) (VGK) are showing promising signs of faster economic growth and increased manufacturing activity.
Meanwhile, the emerging markets' (EEM) manufacturing activity has been subdued since the beginning of 2Q17. Let's look at the global manufacturing PMI over the last year in the chart below.
Article continues below advertisement
Global manufacturing sector performance
As we can see in the chart above, the J.P. Morgan Global Manufacturing PMI was slightly down in May 2017 at 52.6 compared to 52.7 in April 2017. The manufacturing PMI remained above the long-run average of 51.4, according to the June 2017 Markit report.
Market performance
The two largest economies—the US (SPY) and China (FXI)—showed major declines in May 2017. US manufacturing dropped to an eight-month low, and China's (MCHI) manufacturing fell below the critical manufacturing PMI mark of 50 in May. A manufacturing PMI above 50 indicates economic expansion, and a PMI below 50 suggests contraction.
Significant improvement can be seen in the Eurozone (VGK) and Japan (EWJ), which crossed six-year and three-month highs, respectively. Although growth in emerging markets is declining, it remains above the critical level of 50. We'll discuss the emerging market manufacturing PMIs later in this series.
Sector performance
May 2017 posted a healthy increase in new work orders as global manufacturing posted the 55th straight month of growth in production. The investment goods sector in May 2017 posted the strongest growth in the last three years.
The intermediate goods sector also showed slight improvement, and the consumer goods sector dipped to an 11-month low in May 2017.
The 2018 outlook for the manufacturing sector remains positive, mainly driven by increasing new work orders, rising backlogs, and an optimistic production outlook. As a result, employment rose in the manufacturing sector, and price pressures remained flat in May 2017.
In the next article, we'll look at China's manufacturing activity.