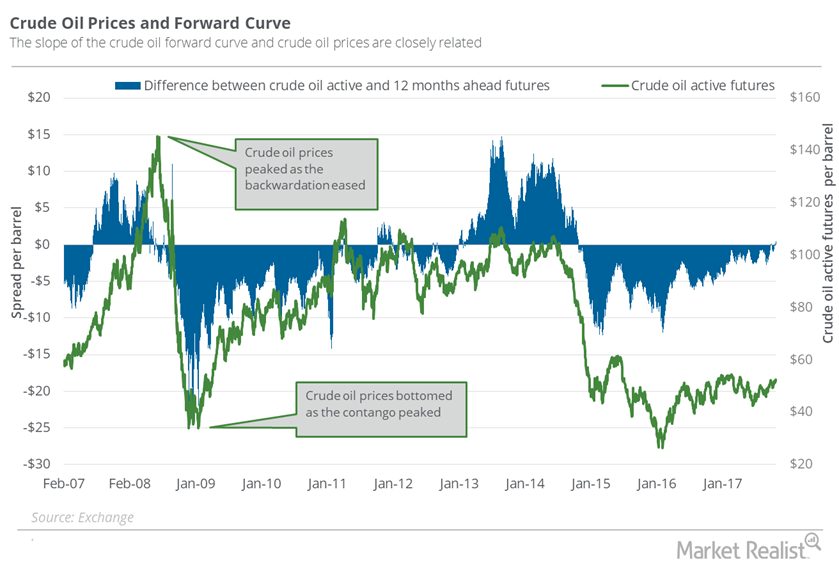 Brent-WTI Spread: Will US Oil Exports Rise Further?
Brent-WTI spread
On October 24, 2017, Brent crude oil (BNO) active futures were $5.86 above WTI crude oil active futures. On October 17, 2017, the difference between the two grades of oil or the Brent-WTI spread was at $6. Between these two dates, US crude oil futures rose 0.7% and Brent crude oil futures rose 0.7%.
Article continues below advertisement
Oil exports
On a year-over-year basis, US crude oil exports have risen more than threefold. During this time period, the Brent-WTI spread expanded by $4.9. The expansion in the Brent-WTI could be one of the factors that helped US crude oil exports rise.
The reduction in global oil supplies after OPEC implemented the production cut deal since January 2017 helped the spread to expand. The factors we discussed in part one of this series may increase the difference between Brent and WTI oil prices further. It could increase US crude oil exports.
On the other hand, any fall in the Brent-WTI spread could diminish the cost advantage of US crude oil exporters to foreign markets, and cause a drop in exports.
At the same time, an expansion of the spread increases the disparity between revenues of US crude oil producers (XOP) (DRIP) (IEO) versus those of their international peers. But, the situation could increase the profits of US refineries (CRAK) since input costs may be lower while output product prices are benchmarked to higher Brent prices.
Track our Energy and Power page for more updates.