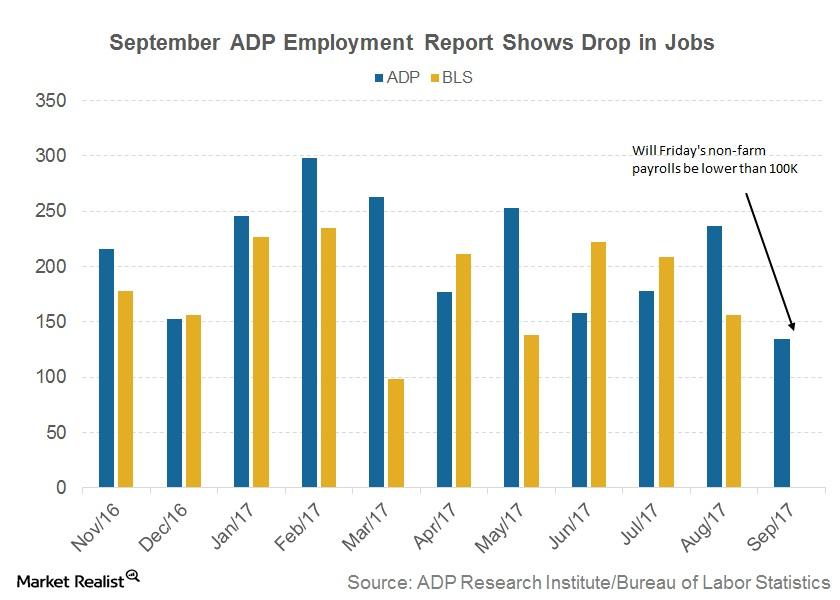 ADP Jobs Data Dragged Lower by Hurricanes in September
About ADP's National Employment Report
The ADP National Employment Report measures the monthly change in total US non-farm employment. ADP provides human capital management solutions to companies around the world and covers nearly 24 million US workers. This ADP report is derived from actual anonymous payroll data from ADP's 411,000 clients, and this report serves as a precursor to the non-farm payrolls data that will be released on Friday.
Article continues below advertisement
Article continues below advertisement
Small businesses affected the most in September
As per the ADP September National Employment Report, the US private sector added 135,000 jobs in September. The figure is a sharp decrease from 228,000 in August, and also includes a downward revision of 9,000 jobs. This month's report included comments from Ahu Yildirmaz, the co-head of the ADP Research Institute. He said there was a major dip in hiring from small businesses. He said that small retailers were impacted by Hurricane Harvey and Hurricane Irma in September, but the broader trend of small businesses reducing the pace of hiring could also be one of the reasons for the decline.
Market reaction to report
Financial markets consider the ADP National Employment Report as a preview to the non-farm payroll data from the Bureau of Labor Statistics, which is released on the first Friday of every month. Financial markets (SPY) react to the report when there is a strong surprise in the numbers reported. US bond (GOVT) and currency markets (USDU) react more than the equity markets, as the Fed's decisions on monetary policy are based on job market performance, and the Fed's monetary policy decisions directly impact the US bond (AGG) market and the US dollar (UUP).
In the next part of this series, we'll further analyze the ADP national employment report and understand which sectors were impacted the most by the hurricanes last month.