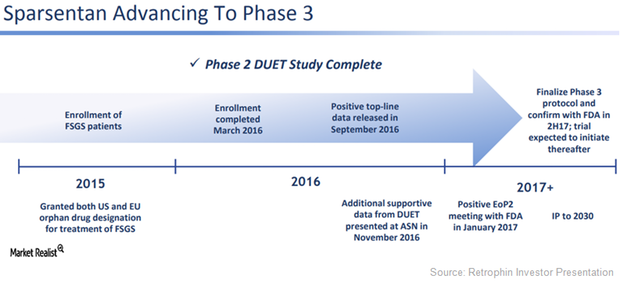 Sparsentan May Be Solid Near-Term Growth Driver for Ligand
Sparsentan growth prospects
On September 7, 2016, Ligand Pharmaceuticals' (LGND) partner Retrophin announced positive results from Phase 2 trial DUET, which explored investigational drug Sparsentan as a treatment option for patients suffering from focal segmental glomerulosclerosis (or FSGS). The data demonstrated a 44.8% larger drop in proteinuria, the protein found in urine due to increased breakdown of the filtration process due to progressive scarring of the kidney in FSGS patients treated with Sparsentan as compared to those treated with Irbesartan. Irbesartan is one of the few drugs routinely administered to FSGS patients.
With Sparsentan, Retrophin and Ligand Pharmaceuticals may become major nephrology players similar to peers such as Amgen (AMGN), AstraZeneca (AZN), and Bristol-Myers Squibb (BMY).
Article continues below advertisement
The above diagram gives a snapshot of the clinical development timeline for orphan drug Sparsentan in greater detail. The patents for this investigational drug in FSGS indications were issued in May 2017 and are scheduled to expire in 2030. Further, Sparsentan may also manage to secure an extension for the patents, thus protecting the drug longer from generic erosion.
Market opportunity 
Since 40,000 patients in the US and a similar number of patients in Europe suffer from this condition, and there is no existing FDA-approved therapy, there is significant market opportunity available for Sparsentan. Further, around 5,400 additional patients are annually diagnosed with this condition. Owing to the absence of therapies, FSGS rapidly results in end-stage renal disease (or ESRD). 19,306 FSGS patients end up with ESRD, while 1,000 patients have to undergo kidney transplants annually. These figures highlight the severity of the need for a potent treatment option in this area.
Retrophin plans to discuss with the FDA whether to start a Phase 3 trial or file a new drug application (or NDA) for Sparsentan in 2H17. If the drug manages to prove its efficacy and safety in its Phase 3 trial and then secures regulatory approval, the potential increase in royalty revenues can result in a favorable impact on Ligand Pharmaceuticals' share prices as well as those of the iShares Russell 2000 Growth ETF (IWO). Ligand Pharmaceuticals makes up about 0.27% of IWO's total portfolio holdings.
In the next article, we'll discuss growth prospects of neurology drug, Brexanolone, in greater detail.