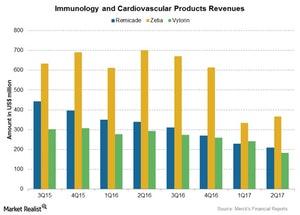 Assessing Merck's Immunology and Cardiovascular Franchise in 2Q17
By Mike Benson

Sep. 12 2017, Updated 9:06 a.m. ET
Immunology franchise  
Merck's (MRK) Immunology franchise includes two drugs, Remicade and Simponi. Remicade is one of the top-selling drugs for the treatment of inflammatory disorders, while Simponi is a once-monthly subcutaneous treatment. While Remicade reported a 39% fall in its 2Q17 revenues, Simponi revenues remained flat during 2Q17 YoY (year-over-year).
Article continues below advertisement
Remicade revenues  
Remicade's revenues fell ~39% to $208 million in 2Q17, compared with $339 million in 2Q16. The decline in revenues was driven by the lower sales following the entry of generic competition and biosimilars due to the loss of exclusivity of Remicade in European markets in February 2015.
Remicade revenues are expected to decline further in the near future due to a patient shift to biosimilars.
Merck holds the marketing rights for Remicade in European markets only. For major countries outside Europe, the marketing rights for Remicade are with Johnson & Johnson (JNJ).
Simponi's revenues were flat at $199 million during 2Q17, compared with $199 million in 2Q16.
Cardiovascular portfolio
Merck's cardiovascular portfolio includes four drugs: Vytorin, Zetia, Liptruzet, and Adempas. Vytorin and Zetia are used to lower LDL cholesterol levels in the blood of patients with a high risk of cardiovascular diseases. The combined revenues for Zetia and Vytorin fell 44% at constant exchange rates to $549 million in 2Q17, compared with $994 million in 2Q16. Drugs similar to Zetia include Niaspan from AbbVie (ABBV) and Lipitor from Pfizer (PFE).
For 2Q17, Liptruzet reported revenues of $49 million, while Adempas reported revenues of $84 million.
To divest company-specific risks, investors can consider ETFs like the iShares Global Healthcare ETF (IXJ), which has 3.8% of its total assets in Merck (MRK). IXJ also has 7.8% in Johnson & Johnson (JNJ), 2.5% in Sanofi (SNY), and 2.4% in Medtronic (MDT).