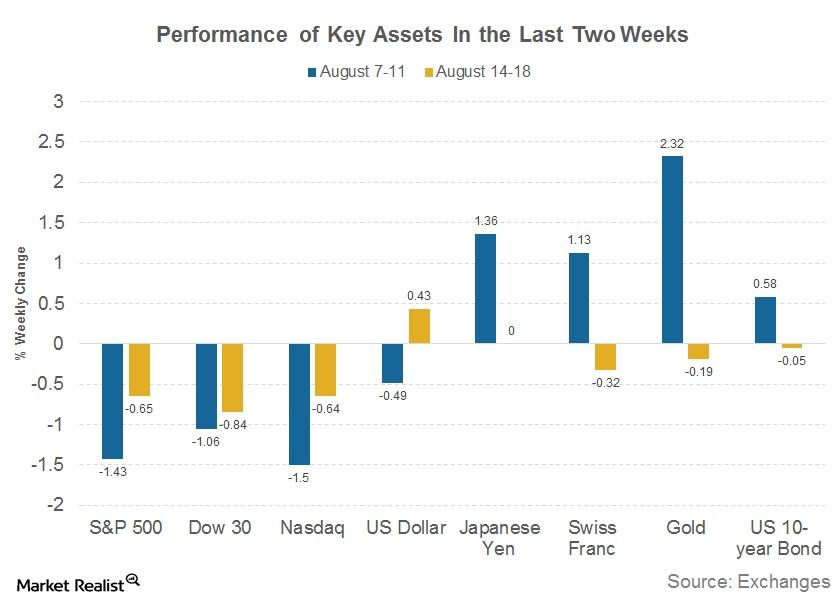 Washington or Wyoming: What Will Drive Markets This Week?
Politics or economics?
The last two weeks have been eventful for financial markets (SPY). For the week ending August 11, we had the "Fire and Fury" episode involving President Trump and North Korea. For the week ending August 18, Trump's comments on Charlottesville and the exit of key business leaders from Trump's appointed business committees created further volatility in the markets (VXX). The unpredictable geopolitical and US political environment led to the rise of volatility (VIXY) in the markets, while economics took a back seat.
Article continues below advertisement
Market reaction so far
As seen in the graph above, the last two weeks had different reasons to blame for rising volatility. In the first of these two weeks, geopolitical tensions arising out of US-North Korea friction led to lower equities (QQQ) and increased demand for safe havens like bonds (BND), gold (GLD), the Japanese yen (FXY), and the Swiss franc (FXF). In the second week, the negative impact was more prominent on US and global equities (VGK), but the demand for safe havens was relatively muted.
Political uncertainty in the US largely impacts US economic expectations in the short term. Investors turned risk averse as hopes for any policy or tax reforms from the Trump administration were wiped out after last week's events. However, we must bear in mind that corporate earnings and US economic performance (excluding inflation) continue to be impressive.
Scenarios for the week ahead
There are two major focus points this week:
Washington, where political events could unfold
Wyoming, where central bankers will meet for the annual Jackson Hole Symposium
The title for this year is "Fostering a Dynamic Global Economy." ECB chair Mario Draghi and Fed chair Janet Yellen will be speaking on Friday. No surprises are expected at this event, but any change in tone from the FOMC members will impact bond and currency markets.
In the risk-off scenario, where investors continue to remain risk-averse, we can expect demand for safe havens to pick up this week. Military exercises between China and the US are set to begin on Monday, and there is always a tail risk of some North Korea related disturbance. In the long run, economics will dominate politics, but for this week, markets will remain focused on politics. News from Washington could dominate any developments arising out of Wyoming.