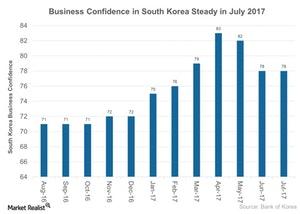 South Korea's Business Confidence Remains Steady in July 2017
Business confidence in South Korea
Business confidence in the manufacturing sector in South Korea (EWY) has remained stable at 78 in July 2017. However, the outlook for August 2017 fell two points to 78.
The business confidence for the non-manufacturing sector in July 2017 stood at 79, a rise of four points from the previous month. The outlook for August 2017 also rose by one point to 77.
The business confidence in South Korea (EEM) has seen a rise since the beginning of 2017 with the recovery in both its domestic and global (ACWI) (VT) economies. The impeachment of former President Park Geun-hye in a corruption scandal in May 2017 boosted confidence across both the consumer and business sentiments.
In the graph below, you can see the business confidence in South Korea over the last year.
Article continues below advertisement
Improved business confidence in South Korea
The business confidence in South Korea remained steady at 78 in July 2017, closer to the highest value since March 2015 when the index reached 80, but was well below 100.
The actual Business Survey Index (or BSI) in the manufacturing and non-manufacturing sector measures the optimism of business leaders about the performance of the economy in the current month and their outlook for the next month. A BSI above 100 shows an improving outlook, and below 100 shows a deteriorating outlook.
Future expectations
The levels below 100 continue to indicate that exports are less upbeat due to a recent political discord with neighboring China (FXI), which is currently South Korea's (EEM) largest importer. The reprisal by China through its reduced trade with South Korea can impact its economic activity in 2017.
Exports to China for June 2017 rose ~5.1% but were lower than the 7.5% rise in the previous month.