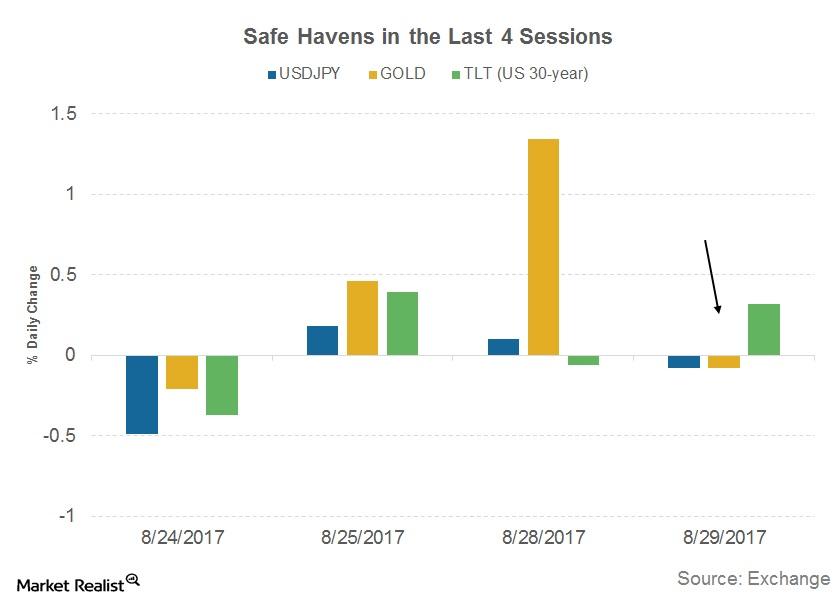 North Korea Tensions: Will Demand for Safe Havens Rise?
Demand for safe havens rose after the missile launch
In the financial markets, there are a few financial assets whose demand increases dramatically in times of uncertainty. Investors believe the value of these assets won't deteriorate as much as other financial assets, and so they invest in these assets. Empirical evidence suggests this behavior, and there has been no challenge to this belief even during this crisis. Important safe havens that react to geopolitical tensions include gold (GLD), the Japanese yen (FXY), the Swiss franc (FXF), and US Treasuries (GOVT).
Article continues below advertisement
Article continues below advertisement
Market reactions after the missile test
In the aftermath of the missile launch from North Korea, gold prices rose more than 1%—recording a year-to-date peak of $1,331. The Japanese yen recorded a two-and-half-year high of 108.27 against the US dollar (UUP), but the gains were quickly reversed as fears of escalated tensions receded once US markets (SPY) opened. The reason for this bounce-back was the lack of any strong statements from the US President, whose focus is on the rescue program for Hurricane Harvey. The United Nations has condemned North Korea's actions, but it didn't announce any new sanctions.
Will safe havens be dumped as risks subside?
In the current climate of uncertainty, it's unlikely that investors will completely ignore safe havens. There's always a possibility of escalated tensions and strong market reactions. Institutional investors and hedge funds could be looking to hedge this risk—or even take advantage of it. Though we could see a short-term respite in the next few days, demand for safe havens isn't likely to subside anytime soon.
In the next part of this series, we'll analyze how US bond markets have fared amid this rise in risk aversion.