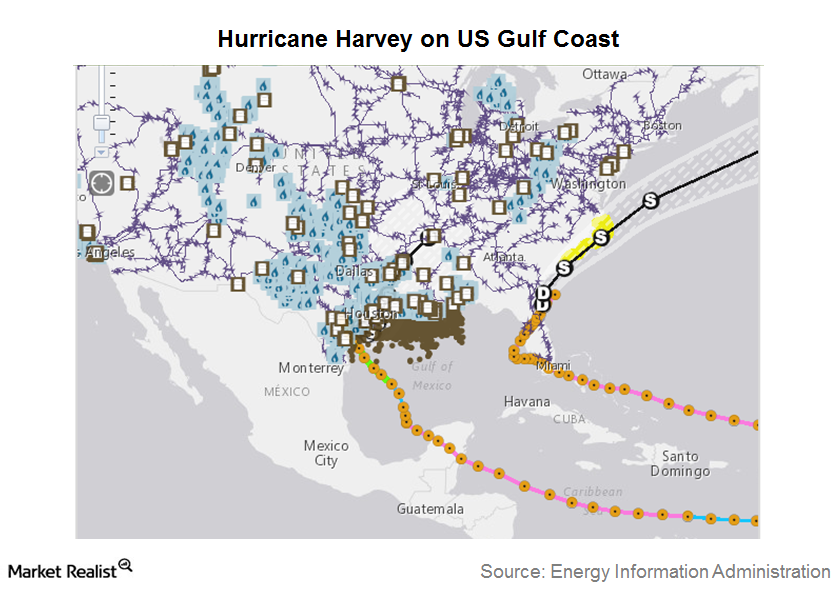 Hurricane Harvey Impacted Energy MLPs
Hurricane Harvey 
Hurricane Harvey hit the US Gulf Coast last week. The US Gulf Coast is a major destination for US refineries and energy infrastructure including terminal and pipelines. In this part, we'll look at how the hurricane impacted a few of the major MLPs that have a strong presence in the region.
Article continues below advertisement
Impact on Energy MLPs
Buckeye Partners (BPL) and NuStar Energy (NS), which have a strong presence in the Corpus Christi region through crude oil and refined products terminals and pipelines, have reportedly shut down their operation in the region. However, they haven't reported any major damage to their properties in the region.
Williams Partners (WPZ) is the operator of one of the largest natural gas pipeline networks in the US—Transco. It reportedly suffered some losses due to offshore production shutting down following Hurricane Harvey. The partnership hasn't released an official press statement.
Enterprise Product Partners (EPD), the largest US MLP in terms of market capitalization, shut down its gas plant in Corpus Christi. Magellan Midstream Partners (MMP) shut down its crude oil and refined products pipeline in the Houston area.
Cheniere Energy (LNG), the only US LNG exporter from the lower 48 states, temporarily stopped construction on its two trains at Corpus Christi. The Sabine Pass facility is owned by Cheniere Energy's subsidiary—Cheniere Energy Partners (CQP). The facility hasn't suffered any losses from the hurricane. Cheniere Energy plans to complete seven LNG trains by the end of 2019 including five at Sabine Pass and two at Corpus Christi.
Enterprise Products Partners, Magellan Midstream Partners, Buckeye Partners, Williams Partners, and NuStar Energy are part of the Alerain MLP ETF (AMLP). Together, they account for ~38% of AMLP.
Hurricane Harvey doesn't seem to have a material impact on energy MLPs' operations. We have to wait for more updates. However, US Gulf Coast storms, which have become almost an annual phenomenon, pose a major threat to MLPs with a strong presence in the region.