Why the International Monetary Fund Expects Continued Euro Growth
Growth projections for Euro area upgraded The International Monetary Fund (or IMF) has revised its growth projections for France, Germany, Italy, and Spain. Growth projections for Germany (FGM), France (EWQ), and Italy (EWI) were upgraded by 0.2% for 2017, and 0.1% for 2018. Spain (EWP) had a higher upgrade to growth expectations, with a change of […]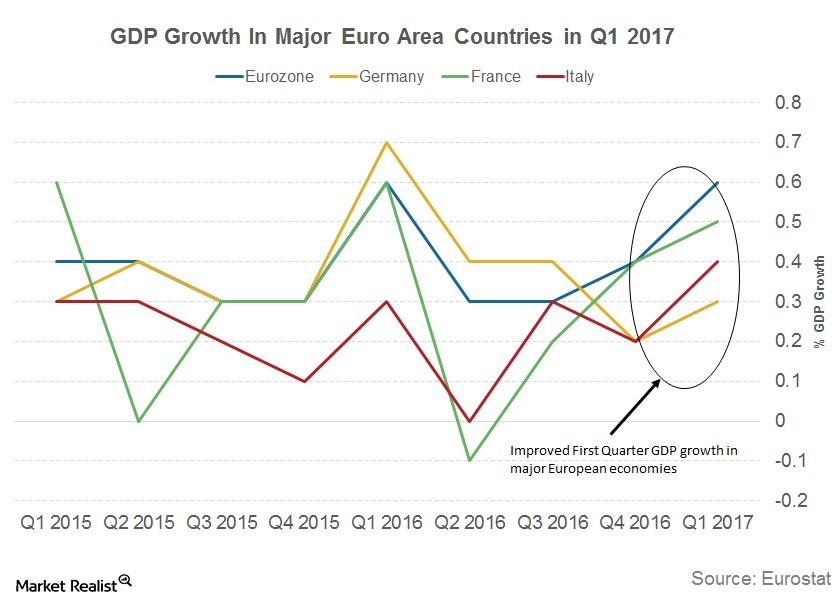 Growth projections for Euro area upgraded
The International Monetary Fund (or IMF) has revised its growth projections for France, Germany, Italy, and Spain. Growth projections for Germany (FGM), France (EWQ), and Italy (EWI) were upgraded by 0.2% for 2017, and 0.1% for 2018. Spain (EWP) had a higher upgrade to growth expectations, with a change of 0.5% for 2017 and 0.3% for 2018. An increase in domestic demand in the recent quarter was one of the key reasons for this change in outlook. Reduction in political uncertainty after market-friendly election outcomes in member countries also added to the positive outlook.
Article continues below advertisement
Article continues below advertisement
Outlook for emerging and developing Europe
The IMF has also improved its growth projections for emerging and developing European countries. Key economies that are likely to expand include Turkey (TUR) and Russia (RSX). Growth projections for emerging and developing countries in the Euro area are 3.5% and 3.2% for 2017 and 2018, respectively. Improvement in trading conditions within the Euro area, coupled with an uptick in exports, led to growth projections being revised higher.
What lies ahead for the Euro area?
The outlook for the Euro area remains optimistic, with key economic indicators signaling improved economic activity. Investors should focus on incoming data to better understand growth in the area. The European Central Bank plays an important role in this region as it needs to carefully manage the stimulus program and make sure the region continues to follow a path to recovery.