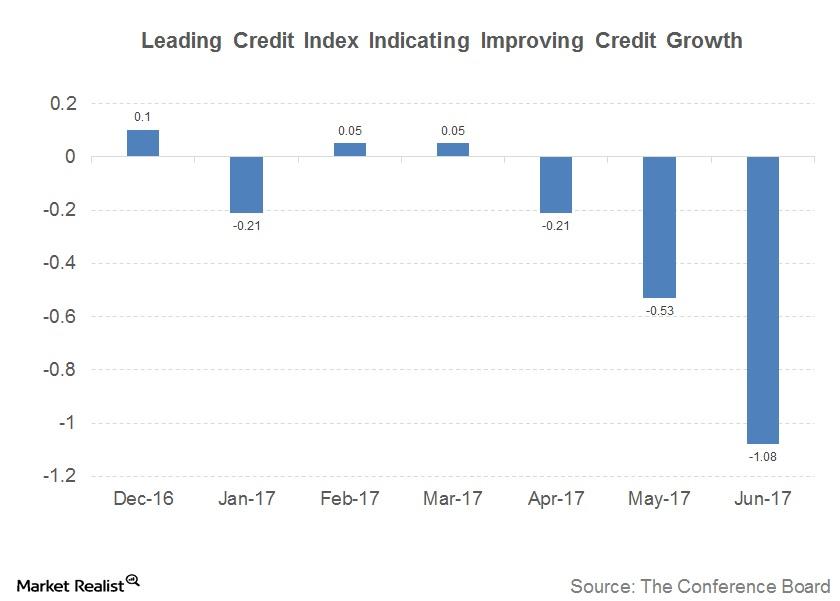 What the Conference Board LEI Tells Us about the Market
Understanding the Leading Credit Index
The Leading Credit Index is one of the constituents of The Conference Board Leading Economic Index (or LEI), which is reported by The Conference Board on a monthly basis.
The Leading Credit Index is a composite index that contains six metrics derived from the financial markets.
The six components as listed on The Conference Board's website and the LEI report are as follows:
2-Year Swap Spread (SHY) (real time)
LIBOR (London Interbank Offered Rate) 3-Month (SCHO) Less 3-Month Treasury-Bill (VGSH) Yield Spread (real time)
debit balances at margin accounts in broker dealers (monthly)
AAII (American Association of Individual Investors) Investor Sentiment Survey, bullish (%) less bearish (%) (weekly)
Senior Loan Officer C&I (commercial and industrial) Opinion Survey, with the bank tightening credit to large (SPY) and medium companies (IWM) (quarterly)
security repurchases (GOVT) (quarterly) from the Total Finance-Liabilities section of the Federal Reserve's flow of fund report
All the above-listed financial items are forward-looking, so they form part of the Leading Credit Index and the LEI.
Article continues below advertisement
Performance of the Leading Credit Index
The Leading Credit Index is an inverse index, and it has an opposite impact on the LEI. For instance, the reading for December 2016 was 0.1, so it had a net negative impact on the LEI for the month. In simple terms, this reading is like your credit card balance. If the outstanding amount is shown as a negative, it means you have credit.
The Leading Credit Index's reading for June 2017 was -1.1. This index had a net contribution of 0.09, or 9%, to the LEI.
Usefulness of this economic indicator
The leading credit index provides important insight into the existing credit climate in the economy. This index has a close resemblance to the M2 money supply, which has been adjusted for inflation (TIP).
A falling leading credit index is positive for the US economy, and a rising credit index is a sign of future recession.