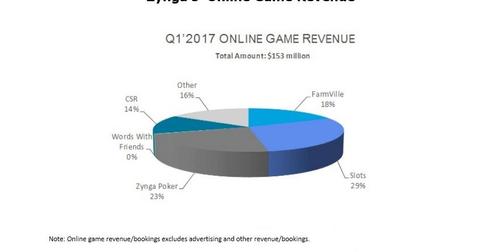 The Drivers behind Zynga Poker's Success
By Neha Gupta

Updated
League structure in the Poker franchise
Zynga Poker, one of Zynga's (ZNGA) live services, was a star performer in 1Q17. The record performance of the Poker franchise last quarter was attributed to changes Zynga's new management team has been implementing to maximize income from its existing portfolio.
Speaking at a Cowen industry conference early this month, Zynga's CFO, James Gerard Griffin, shared illuminating details about the adjustments that contributed to the record success of the Poker franchise.
Griffin's explanation revealed that improving player engagement lied at the center of Poker's record numbers in 1Q17. He cited scaling events and bringing a league structure into the game as drivers of these gains.
Article continues below advertisement
Poker's mobile metrics soared in 1Q17
Zynga reported that Poker's mobile revenue jumped 63.0% year-over-year and 23.0% sequentially. The game's mobile bookings rose 76.0%, and its daily mobile audience rose 78.0%. As a result, 1Q17 marked Poker's best quarterly mobile performance in history.
The featuring of the game in Apple's (AAPL) App Store for the first time also contributed to the gains. Zynga also launched the Poker franchise on Snap's (SNAP) Snapchat social platform.
Zynga reported online game revenue of $153.0 million in 1Q17, with Poker contributing 23.0%, as the chart above shows.
A boost to the top line amid feeble ad sales
Though Poker contributes only a small portion of Zynga's overall revenue, the game is vital for the company. For example, it's making up for weak advertising sales.
By bolstering player engagement, Zynga hopes to improve customer retention and boost its competition against rivals such as Electronic Arts (EA) and Glu Mobile (GLUU).