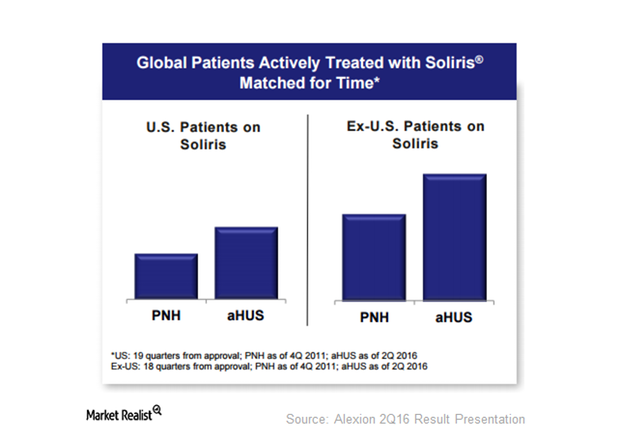 How Significant Is Alexion's Opportunity with Soliris?
Opportunity with PNH and aHUS
Although the number of newly identified paroxysmal nocturnal hemoglobinuria or PNH patients has increased, the majority has not yet gotten an accurate diagnosis for the disorder.
Alexion (ALXN) has been serving the atypical hemolytic uremic syndrome, or aHUS, market for the past five years. Although the drug was approved for aHUS in 2011, the number of patients on the drug has increased at a faster pace than the number of patients for PNH, which was approved in 2007. A higher incidence of aHUS compared to PNH helps explain this.
Article continues below advertisement
Article continues below advertisement
Alexion's plans to tap the aHUS space
To tap the opportunity of growth in the aHUS space, ALXN plans three key initiatives:
increasing the number of patients with TMA, or thrombotic microangiopathy tested for aHUS
helping the patients to receive the drug as a first-line therapy
enabling physicians to understand the nature of the disease better
Label expansion for Soliris would also help to protect the highly innovative drug.
Notably, Vertex Pharmaceuticals (VRTX), Shire (SHPG), and Regeneron (REGN) are also expanding labels for their respective key drugs.
Remember, to avoid direct investment risks, you can invest in ETFs like the SPDR S&P Biotech ETF (XBI). XBI has ~2.2% of its total holdings in Alexion.
Continue to the next part for details on Alexion's metabolic franchise in 2Q16.