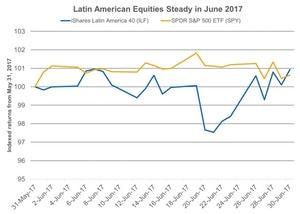 Performance of Latin American Equities Steady in June 2017
By Mary Sadler

Jul. 13 2017, Updated 4:43 p.m. ET
Latin American economies
Latin American (ILF) equities in June 2017 remained steady amid the political turmoil among its member nations. The structural inefficiencies in the Latin American region continue to affect the economic activity in 2017. However, reforms undertaken by several economies within the region such as Brazil and Argentina are expected to boost economic activity.
You can see the performance of Latin American equities in 2017 in the graph below.
Article continues below advertisement
Latin American market
The iShares Latin America 40 (ILF) posted a slight rise of 0.90% in June 2017 compared to a fall of ~4.0% in the previous month. In the United States, the SPDR S&P 500 ETF (SPY) continued to improve in June 2017, rising about 0.60% compared to ~2.0% in the previous month.
Latin American markets saw a remarkable gain in the first quarter of 2017 compared to the US market, largely due to a rise in oil prices since 2016. However, the slump in oil prices since 2Q17 impacted Latin American equities in June 2017. Brent crude oil fell about 1.0% that month. Latin American markets depend heavily on its commodities exports, including oil (USO), raw materials and minerals (XME), to the global markets (ACWI).
Political and economic reforms
Economic activity in some economies such as Brazil (EWZ) and Argentina (ARGT) is likely to be affected by domestic struggles, including political and economic problems. The political chaos with President Michel Temer's corruption allegations in Brazil is likely to delay economic reforms in the country. However, Brazil's Senate recently passed the unpopular labor bill on July 11, 2017. The bill is part of reforms pushed by President Temer to improve Brazil's fiscal health. Both Brazil and Argentina are facing a revolt by its people due to the austerity measures adopted by their respective governments.
The external factors that have been supportive due to the surge in commodity prices in 2016 are back to a marginal decline in 2017. As a result, the iShares Latin America 40 (ILF) has risen about 11.0% so far in 2017, which it's still higher than the 9.0% rise in the SPDR S&P 500 ETF (SPY) as of July 12, 2017.
Let's look now at Brazil's performance in June 2017.