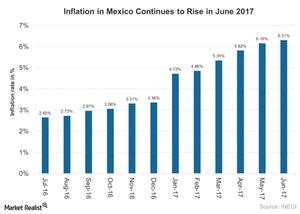 Mexican Unemployment Edged Up in June—Is the Rise Temporary?
By Mary Sadler

Jul. 26 2017, Updated 3:35 p.m. ET
Unemployment in Mexico
Global (ACWI) recovery in 2017 has helped labor market conditions to improve across OECD (Organisation for Economic Co-operation and Development) nations. The OECD's average employment rate, including Mexico's (UMX), has returned to its pre-crisis level as of June 2017. The unemployment rate in Mexico (EWW) stood at 3.3% in June 2017, higher than its level of 3% in May.
Let's have a look at the country's unemployment rate over the last year.
Article continues below advertisement
Employment rate in June
The level of unemployment in Mexico (EEM) stood below the market's expectation of 3.5% in June 2017. The jobless rate for June was at its lowest level since 2008. Seasonally adjusted unemployment fell to 3.3% in June, compared to 3.5% in May.
The jobless rate fell for men stood at 3.2% in June 2017, compared to 3.8% in the same period last year. For women, the jobless rate stood at 3.4%, compared to 4.1% in the same period last year. The labor participation rate rose slightly to 59.4%, compared to 59.3% in June 2016.
Labor reforms and economic activity
Employment in Mexico (ILF) has risen since the beginning of 1Q17 due to improved global (ACWI) growth. The anti-trade sentiment displayed by Mexico's largest trading partner, the United States (SPY), initially affected confidence levels. However, sentiments are improving due to the improved outlook on the renegotiation of NAFTA (North American Free Trade Agreement), which should help to boost activity in the manufacturing sector.
About 517,000 Mexican workers were added to social security in 1H17, a 17% rise compared to the same period last year, according to the National Social Security Institute.
A long-awaited federal labor law by Mexico's former president Felipe Calderón aimed to create flexible contracts and transparency. These reforms are expected to improve consumer sentiments and spending. Recently, Mexico passed a constitutional reform on labor justice, which was a significant step toward strengthening the judicial system and helping in the speedy correction of labor issues. The improvement in the employment environment is expected to support private consumption and economic activity in Mexico in 2017.
The United States (QQQ), Mexico (EWW), and Canada (EWC) are expected to begin their first round of NAFTA negotiations in August 2017.
In the next article, we'll look at the inflationary trend in Mexico.