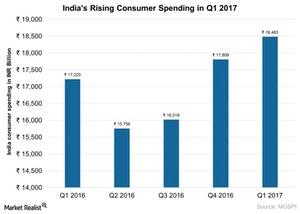 Is Consumer Spending Rising in India amid Reforms in 2017?
Consumer spending in India
Article continues below advertisement
Consumer spending in India
The consumer sentiment in India is improving, and it has an optimistic outlook for the medium term. However, a potential short-term disruption is expected in the near-term due to the country's implementation of the goods and services tax (or GST), which was rolled out on July 1, 2017.
With its rising incomes, India's growing middle class (EPI) (INDA) is expected to support strong economic growth over the medium term. Expectations of a normal monsoon season are also likely to boost rural incomes and increase government spending in 2017.
The stability in the Indian markets in 2017 has led to the Reserve Bank of India's adopting a neutral monetary policy in June. The bank is likely to move to an accommodative policy in 3Q17 because it's expected to cut interest rates further, thereby supporting consumer spending.
Large size of the Indian market
The Indian economy is expected to grow at 7.2% and 7.7% in 2017–2018 and 2018–2019, respectively, more than double the anticipated global (ACWI) (VT) growth rate.
The world GDP growth rate is expected to be 3.5% in 2017 and 3.6% in 2018, according to the International Monetary Fund's July 2017 report. As a result, the consumer discretionary sector is expected to be one of the top-performing sectors in India in 2017.
The consumer discretionary sector has risen ~31% so far in 2017 as of July 25, 2017. Ambitious reforms such as the Make in India initiative led by Prime Minister Narendra Modi and his government are also increasing foreign investment in India.
The Columbia India Consumer ETF (INCO), which tracks the India Consumer Price Index, is a market cap–weighted index of ~30 Indian consumer discretionary stocks. It had risen ~5% so far in July as of July 25, 2017.
Let's look at India's manufacturing activity in our next article.