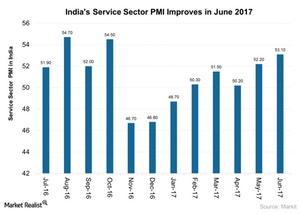 India's Service Sector Activity Strengthened at the End of 2Q17
Service sector activity in India
The service sector PMI (purchasing mangers' index) in India (INDA) rose to 53.1 in June 2017, compared to 52.2 in May. The PMI's improved performance in June was mainly the result of a rise in new business and expansions over the last five months.
The service sector is one of the most dominant sectors in India (EPI), and it's attracted significant foreign direct investment in the country over the last decade. India's (INDY) services sector is expected to grow 8.8% in 2016–2017, according to first advance estimates from the Central Statistics Office.
Article continues below advertisement
Article continues below advertisement
Service sector activity in June 2017
Operating conditions in India's (PIN) service sector continued to improve in June 2017 on increased new order work. According to the July 2017 Markit report, improved demand conditions and marketing efforts helped the country acquire new business. Resultantly, output rose, though it did so at its slowest rate in the last four months.
Employment and price pressures
Employment continued to increase in June 2017 as service sector companies recruited across sectors at a rate equal to May's four-year peak. On the cost front, pricing pressures increased as input costs rose to a three-month high in the service sector but remained lower than their long-term average. Meanwhile, selling prices rose at the fast pace they saw in February 2017.
Expectations
Improved market conditions in the service sector in India (EEM) kept optimism high in June 2017. Services companies are expected to remain on upward trajectories for the next 12 months as of June. These improved sentiments can be attributed to better market conditions and promotional activities. However, consumer sentiments fell to a four-month low in June 2017.
The service sector is a key contributor to India's economic growth. It contributed ~66% to India's (EPI) GDP and accounted for ~17% of total foreign investment inflows in 2015–2016.