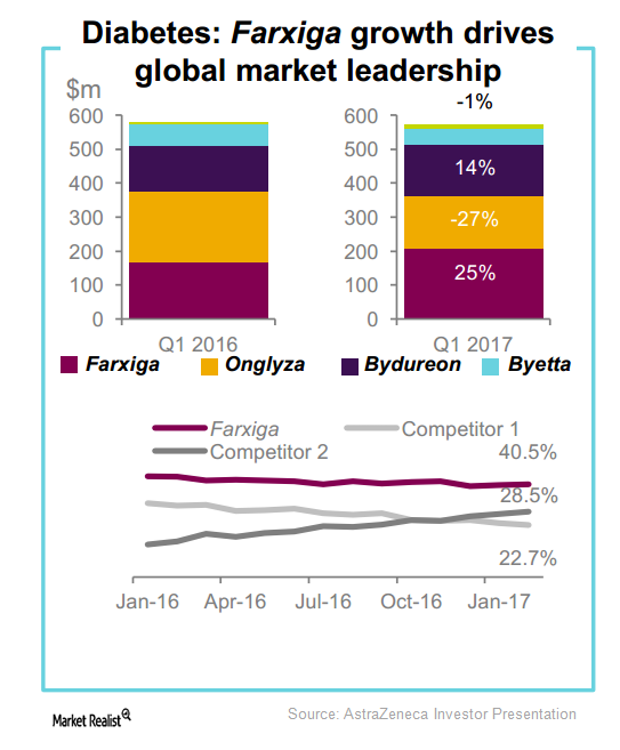 Farxiga Expected to Drive AstraZeneca's Performance in Diabetes Segment
By Margaret Patrick

Jul. 11 2017, Updated 7:37 a.m. ET
Diabetes franchise
In 1Q17, AstraZeneca (AZN) witnessed a 1% year-over-year (or YoY) drop in revenues earned by its diabetes portfolio. Intense pricing and competitive pressures resulted in a 7% YoY drop in the company's diabetes franchise sales in the US market in 1Q17.
In Europe, the company witnessed ~1% growth in diabetes product sales despite declining demand for Onglyza. This is mainly attributed to the increasing adoption of Farxiga in Europe.
Article continues below advertisement
Farxiga's growth trends
In 1Q17, AstraZeneca's leading sodium-glucose co-transporter 2 (or SGLT2) therapy for type-2 diabetes, Farxiga, reported revenues close to $270 million, which is YoY growth of ~25% on a constant currency basis.
In the US, the drug reported sales close to $96 million, which is YoY growth of only 2%, due to the negative impact of restricted managed care access, ongoing affordability programs, and changing inventory levels. To learn more about Farxiga, please read What to Expect from AstraZeneca's Farxiga in 2017.
AstraZeneca, however, is confident that the SGLT2 class of drugs could gradually capture the market of other type-2 diabetes class of drugs, specifically Dipeptidyl peptidase-4 (or DPP4) inhibitors such as Merck's (MRK) Januvia and Janumet.
As physicians are becoming more confident prescribing SGLT2 drugs, they are being prescribed at an earlier stage of the disease, just after metformin and prior to DPP-4 inhibitors. Physicians are also combining SGLT2 inhibitors with other type-2 diabetes therapies at earlier stages of diabetes.
SGLT-2 inhibitors such as Farxiga, Johnson & Johnson's (JNJ) Invokana, Boehringer Ingelheim and Eli Lilly's (LLY) Jardiance, and others are expected to benefit from positive results of CVD-REAL, the first large study based on real-world evidence.
This study has demonstrated that type-2 diabetes patients treated with SGLT2 inhibitors witnessed a 51% reduction in mortality and a 39% drop in hospitalizations due to heart failure compared to patients treated with other classes of drugs.
This ongoing study, comprising more than 300,000 patients around the world, is expected to boost the uptake of Farxiga in 2017. This, in turn, would have a positive impact on AstraZeneca stock as well as the Vanguard FTSE All-World ex-US ETF (VEU). AstraZeneca makes up about 0.18% of VEU's total portfolio holdings.
In the next article, we'll discuss major trends for AstraZeneca's Farxiga in international markets.