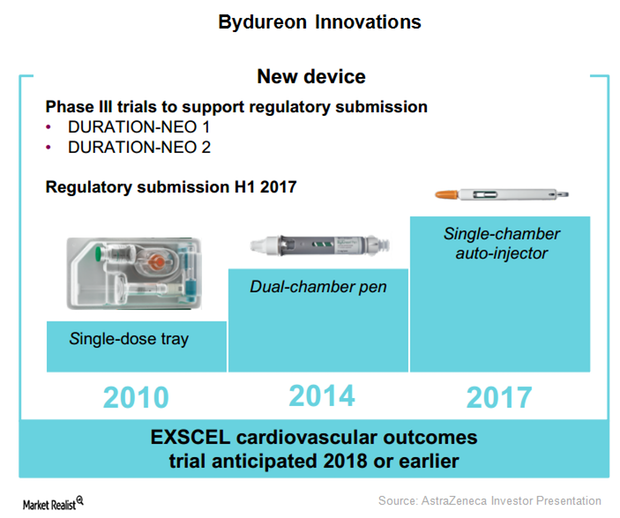 Bydureon Auto-Injector May Boost the Drug's Sales in Future Years
Bydureon demand trends
In 1Q17, AstraZeneca's (AZN) Glucagon-like peptide-1 (or GLP-1 ) receptor agonist, Bydureon, reported global sales of $153 million, which represents year-over-year (or YoY) growth of ~13% on a reported basis.
The combined product sales of Bydureon and Byetta globally in 1Q17 totaled ~$199 million, which is 1% YoY growth on a reported basis and 2% YoY growth on a constant currency basis. While the active ingredient in both injectable type-2 diabetes therapies, Bydureon and Byetta, is exenatide, Bydureon is currently available in a kit form while Byetta is sold as a prefilled pen.
Article continues below advertisement
In 1Q17, the combined sales of Bydureon and Byetta in the US market totaled ~$157 million. AstraZeneca has been increasingly promoting once-a-week Bydureon over twice-daily Byetta. This change resulted in Bydureon reporting $127 million in sales in 1Q17 in the US market, which comprises ~81% of the combined sales figures for Bydureon and Byetta.
Combined sales of Bydureon and Byetta totaled $30 million in Europe, which is a 9% YoY drop due to increasing competition in the GLP-1 class of drugs. The above diagram shows the timeline for various milestones for Bydureon.
Bydureon research programs
In 1Q17, the FDA accepted for review AstraZeneca's application seeking approval for the Bydureon auto-injector as a treatment option for type-2 diabetes patients. If approved, it would be more convenient to use Bydureon, an important factor in the management of chronic ailments.
Bydureon could play a major role in enabling AstraZeneca (AZN) to compete effectively with other type-2 diabetes players such as Johnson & Johnson (JNJ), Eli Lilly & Co. (LLY), and Merck & Co. (MRK).
Following positive top-line safety results declared in May 2017, AstraZeneca anticipates encouraging results from the Exenatide Study of Cardiovascular Event Lowering (or EXSCEL) outcomes trial, evaluating the efficacy of Bydureon, in 2H17.
The trial has enrolled more than 14,000 type-2 diabetes patients in 35 countries. The results are scheduled to be released earlier than previously expected due to a faster rate of cardiovascular events in patients.
If there are positive clinical results from the EXSCEL trial, Bydureon may witness a robust increase in demand, which could lead to a rise in AstraZeneca's stock price. This trend could boost the Vanguard Total World Stock ETF (VT), as AstraZeneca makes up about 0.10% of VT's total portfolio holdings.
In the next article, we'll discuss the growth prospects for AstraZeneca's Brilinta.