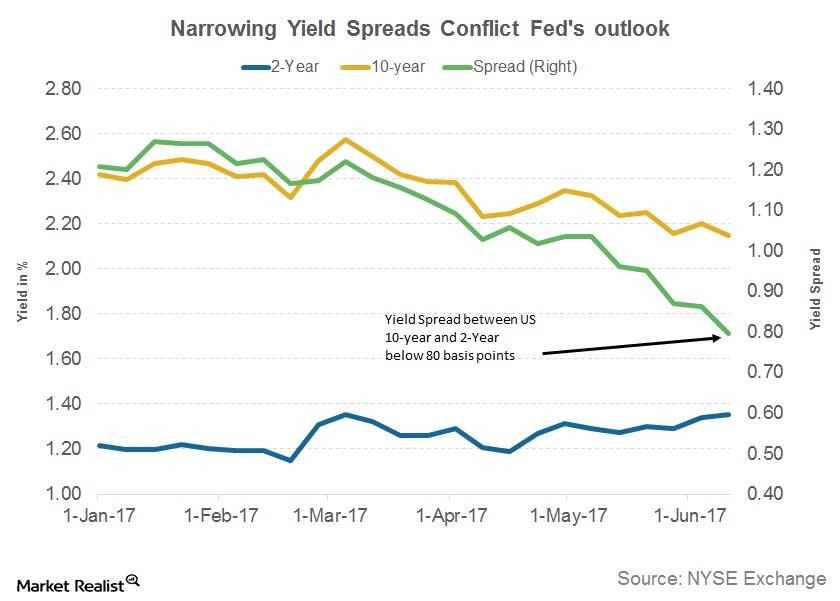 Why NY's Fed President Doesn't Feel a Flattening Yield Curve Is Negative
Dudley is pleased with the US economy
New York's Federal Reserve president, William C. Dudley, recently spoke at a business forum in New York and said that he was pleased with the current state of the US economy.
Dudley believes that the US economic rebound hasn't been distributed evenly and that some pockets have outperformed. He sees employment conditions improving, and he thinks that inflation is proceeding at a good place but will soon need to pick up from its current level. Dudley said that US economic expansion has a long road ahead, and he expects inflation (TIP) and wage growth to reach 3% in the next two years.
Article continues below advertisement
Article continues below advertisement
Flattening yield curve not a negative sign
According to Dudley, the flattening of the yield curve (BND) for US Treasuries (GOVT) isn't a negative sign for the US economy (AGG). Historically, the yield curve has flattened before a recession. Dudley believes that the current yield curve's flattening is a reflection of the global financial markets.
To read more, check out Why Is the US Treasury Yield Curve Flattening?
Dudley says monetary tightening should continue
Dudley said that the current tightening cycle hasn't had a significant effect on financial conditions, and he feels that if rate hikes (BSV) are halted, the economy could see negative effects, as rates may have to rise even faster in a shorter span of time in the future.
Dudley is considered a dovish member of the Federal Open Market Committee, so his hawkish views give the market reason to believe another rate hike could be waiting in the wings.