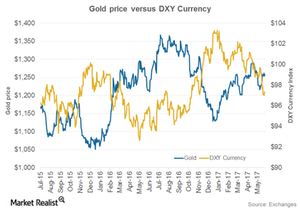 What's the Correlation between the Dollar and Gold?
DXY Index
The rise in gold on June 6 also boosted the other three precious metals. Silver futures for August delivery were 1.4% higher for the day and closed at $17.6 per ounce. Platinum and palladium also jumped 2.6% and 1.2%, respectively.
The US dollar has a closeknit relationship to gold and the other three precious metals. The DXY Currency Index, which measures the dollar against a basket of six major world currencies, was at ~96.7 on Friday. The DXY Index has fallen about 0.75% over the past week. On Friday alone, it gave up 0.5%.
Article continues below advertisement
Dollar-denominated assets
The above chart shows how the dollar and gold (GLD) have been reacting to each other. Over the past month, the drop in the dollar has boosted precious metals.
Because gold, silver, platinum, and palladium are all dollar-denominated assets, the falling dollar means comparatively cheap currency for investors from other countries. Thus, the demand for dollar-based assets can rise. In the same manner, the increase in the dollar (UUP) can reduce the lure of these dollar-denominated assets.
Correlation between the dollar and gold
Usually, gold and the dollar maintain an inverse relationship, but not always. On a year-to-date basis, the correlation between gold and the dollar stands at -21%, which suggests that about 21% of the time, a rise in the dollar will lead to a fall in gold and vice versa.
The fluctuation in the metals also impacts mining stocks like Goldcorp (GG), Royal Gold (RGLD), Alamos Gold (AGI), and First Majestic Silver (AG).