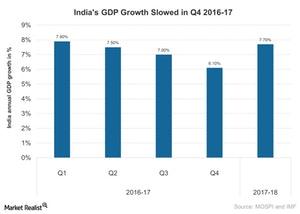 What Happened to Growth in India in Fiscal 4Q16
GDP growth in India
Economic growth in India (INDA) slowed during the country's fiscal 4Q16 (January 2017–March 2017), revealing the impact of the demonetization policy promoted by Prime Minister Modi's administration in November 2016. The Indian (EPI) economy grew 6.1% on a YoY (year-over-year) basis in fiscal 4Q16, as compared to its 7% expansion in the previous quarter. (The fiscal year in India begins in April and ends in March.)
Article continues below advertisement
Article continues below advertisement
GDP growth in fiscal 4Q16
Economic growth in India (INDY) was well below market expectations of 7.1% for fiscal 4Q16 and came in at the lowest rate in the past two years. The lower growth mainly resulted from the slowdown in consumer spending and the decline in investments following the demonetization program. The demonetization program started in November 2016 and removed about 86% of India's currency in circulation.
Growth drivers in fiscal 4Q16
The primary driver of growth in fiscal 4Q16 was seen in private spending, which increased at a rate of 7.3%, as compared to 11.1% in fiscal 4Q15. Government expenditures rose 31.9% in fiscal 4Q16, as compared to 20.9% in fiscal 4Q15. But exports saw a slighter rise of 10.3% for fiscal 4Q16, as compared to its 11.9% rise in imports.
India's GDP estimates for fiscal 4Q16 included the revised data for industrial production and wholesale prices. The Indian government had previously changed its GDP base year to 2011–2012 from 2004–2005. The same change was made for industrial production and wholesale price indexes, adjusting the weights for different industries.
Investments
India's (PIN) (EPI) gross value-added growth, which refers to GDP excluding taxes, rose 5.6% on a YoY (year-over-year) basis in fiscal 4Q16, as compared to 6.7% in fiscal 4Q15. The slower growth in fiscal 4Q16 is expected to impact the market performance in 2H17.
The iShares MSCI India ETF (INDA), which tracks Indian equities, has fallen ~2% since the beginning of May 2017 (as of June 26, 2017). The Indian (SCIF) market also appears to be cautious before the rollout of the GST (Goods and Services Tax) on July 1, 2017 (see Part 1).
Continue to the next part for a look at the trade deficit in India over the past year.