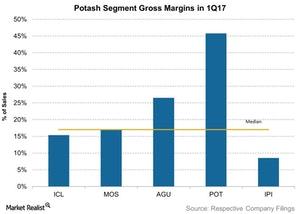 Where Intrepid's Potash Segment Margin Stands next to Peers
Comparing margins
Intrepid Potash's (IPI) gross margin for its Potash segment swung into positive territory in 1Q17, while its Trio margins stayed in negative territory. But how does that compare with the margins of its peers (NANR)?
Article continues below advertisement
Article continues below advertisement
The lowest margins
In the above chart, we've plotted the 1Q17 gross margins of Intrepid's peers. Note that PotashCorp (POT), Israel Chemicals (ICL), Agrium (AGU), and Mosaic (MOS) also sell other types of fertilizers. Here, we've only used these companies' potash segment margins for a fair comparison.
You can see that Intrepid Potash has the lowest margins for potash among peers. PotashCorp had a gross margin of 46% in 1Q17, as compared to Agrium's gross margin of 27%. Mosaic was next in line, with a potash gross margin of 17%, followed by Israel Chemicals, which reported a gross margin of 15% for 1Q17.
With Intrepid's Potash segment margin coming in at 9%, the company is lagging painfully behind its peers. For this reason, it's logical for the company to focus on its Trio segment. The company has high hopes that its Trio segment will increase overall cash flows and margins going forward.
In the next part, we'll compare Intrepid's leverage with those of its peers.