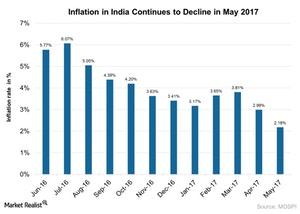 Inside India's Inflation in May 2017
Inflation in India
Consumer price inflation in India (INDA) stood at ~2.2% on a YoY (year-over-year) basis in May 2017, as compared to its 2.99% rise in April 2017. The normal monsoon forecast in 2017 and its record food grain production last year are expected to keep the inflation rate at a moderate level this year, according to many analysts.
The CPI (consumer price index) is considered to be the main gauge of measuring inflation, and the RBI (Reserve Bank of India) uses CPI for its measurements.
Article continues below advertisement
Inflation in May
Inflation in India (EPI) kept well below the market expectation of 2.6% for May 2017, though inflation still hit a new record low for the second consecutive month as food prices declined.
India's inflation calculations this year will include a new data series and more items as the base year shifts to 2011–2012 from 2004–2005. The new data series is expected to help policymakers get a more accurate picture of output and price trends.
Monetary policies
The RBI will continue to monitor India's inflation situation and is expected initiate an interest rate cut after September 2017. The change in India's repo rate is expected after considering the inflationary impact of the GST (Goods and Services Tax). Any change in the repo rate is expected to impact interest rate-sensitive sectors like automobiles (TTM), financials (IBN) (HDB), and technology (WIT) (INFY).
In the next part, we'll examine manufacturing activity in India.