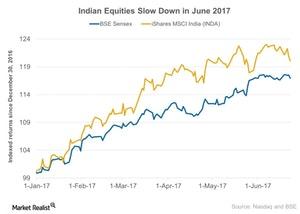 Indian Equity Markets: Waiting for the GST?
Equity performances in India
Indian (INDA) equities have remained steady in June 2017, but markets remain cautious about the end of the quarter, given the impact of the GST (Goods and Services Tax). The GST will replace the existing multiple indirect taxes with uniform tax across India. The current indirect tax structure is considered a major hurdle in India's (EPI) economic growth and competitiveness. The GST will go into effect on July 1, 2017.
For this reason, businesses are trying to clear inventories by offering discounts before the new tax is applied. Corporate earnings are expected to take a hit for first few quarters until the new tax law is absorbed by the market.
Article continues below advertisement
Index performance as of June 2017
Despite low activity in June 2017, the overall market sentiment remains bullish for 2017, with increasing inflows of foreign institutional investments and anticipation of a good monsoon in 2017. The BSE Sensex has lost about 0.02% in June 2017 but has gained about 17% so far in 2017 (as of June 23).
Indian (EPI) markets are now surging with the support of increased liquidity in line with global markets (ACWI) (VT). Recently, the Reserve Bank of India infused about 100 billion Indian rupees in the secondary market operation on June 15, 2017.
Improved macroeconomic factors
Other macroeconomic factors have been supporting increased economic activity in India as of June 2017. Favorable inflationary trends and the positive government outlook for reforms and divestments appear to be helping the Indian market so far this year.
Consumer confidence is also high due to the reforms by Prime Minister Modi's administration. The iShares MSCI India (INDY) has gained about 20% so far in 2017 as of June 23, 2017.
In the next part of this series, we'll take a closer look at economic growth in India.