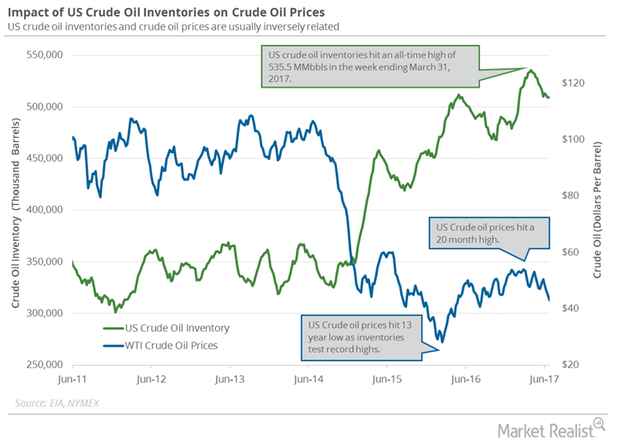 Crude Oil Prices Rose for the Fifth Day: Is It a Bear Trap?
US crude oil prices  
August WTI (West Texas Intermediate) crude oil (XOP) (RYE) (USO) futures contracts rose 1.1% and closed at $44.74 per barrel on June 28, 2017. It's the highest settlement since June 16, 2017. Brent crude oil futures rose 1.4% and settled at $47.3 per barrel on the same day.
Crude oil prices rose for the fifth consecutive day. WTI and Brent crude oil prices have risen 5% since June 21, 2017.
Prices rose due to the following:
Article continues below advertisement
Weekly US crude oil production fell on June 16–23, 2017.
There was larger-than-expected fall in the US gasoline inventories last week.
There was an unexpected fall in US distillate inventories last week.
Bottom fishing and technical buying impacted prices.
The S&P 500 (SPY) (SPX-INDEX) rose 0.8% on June 28, 2017. The energy sector rose 0.75% on the same day.
The US dollar (UUP) is at a seven-month low.
Seasonal demand for gasoline in the US is expected to be strong this summer.
Higher crude oil prices have a positive impact on oil and gas producers' profitability like ConocoPhillips (COP), Chevron (CVX), Sanchez Energy (SN), and Goodrich Petroleum (GDP).
Crude oil prices have recovered from bear territory. So far, Brent and US crude oil prices have fallen ~20% in 2017. Prices fell due to the following bearish drivers:
Slowing crude oil imports and demand are expected from China, India, and Japan.
US crude oil production is expected to hit a record in 2018.
Crude oil storage in tankers reached a high this year.
There are high refined product inventories in the US and China.
There was a rise in US crude oil exports.
There are oversupply concerns despite the production cut deal.
JBC Energy and Dennis Gartman expect that crude oil prices could recover in the short term. However, long-term fundamentals are still bearish for crude oil prices.
In the next part, we'll look at US crude oil inventories for the week ending June 23, 2017.