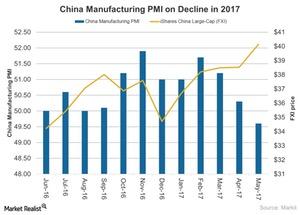 A Look at China's Manufacturing Activity in 2017
Manufacturing activity slows in China
China's (FXI) economic activity slowed down in May 2017 as the country's manufacturing activity touched its 11-month low. Its manufacturing activity slipped below the critical mark of 50, suggesting a contraction in the economy (MCHI).
The slowdown in the manufacturing sector follows the declining demand in 2017. Recently, China's central bank had raised the borrowing cost to curb the risks associated with the country's rising household debt (ASHR), which has impacted consumer demand in China (YANG). The chart below shows the manufacturing PMI over the last year in China.
Article continues below advertisement
Manufacturing activity in China
Chinese producers are facing deteriorating operating conditions, including a slower rise in output and new orders. The employment numbers also declined in May 2017 due to dismal activity in the country's manufacturing sector. The manufacturing PMI dropped to 49.6 compared to 50.3 in the previous month. This is the first decline in 11 months as operating conditions deteriorated marginally in May 2017.
According to data from IHS Markit and Caixin, demand was subdued from the domestic and overseas markets. Exports grew at marginal pace in May 2017. Purchasing activity also decreased in May as weaker sales impacted the purchase of inputs.
Impact of the manufacturing slowdown
Any slowdown in China is likely to affect global markets (ACWI) (VT), as China is a global manufacturing hub (AAPL) (CSCO) (CAT). China is a major trading partner with most nations around the world. Any decline in its demand conditions is expected to impact its trading partners (SPY) (VGK).
In our next article, we'll look at India's manufacturing activity in May 2017.