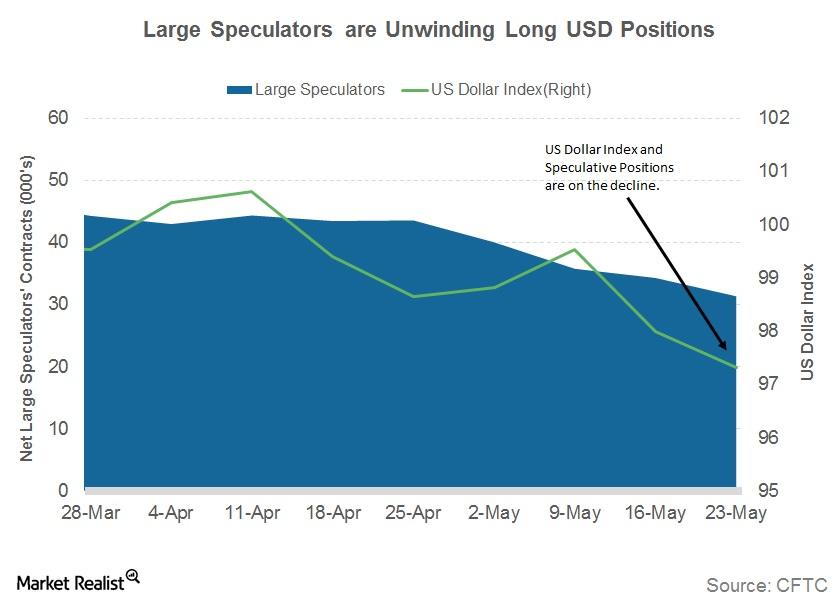 What the Falling US Dollar Could Indicate for Investors
Is a weak US dollar good for the markets?
The US dollar (UUP) has continued to lose its value with respect to its trading partners. The US Dollar Index fell 1.6% in the week ended May 26, 2017, after posting nominal gains of 0.34% in the previous week. Uncertainty about the Federal Reserve's raising rates in its June 14 meeting drove the US dollar lower.
Generally, the value of a country's currency rises if interest rates rise, as investors will get higher returns for funds stored in that currency.
Article continues below advertisement
The US Dollar Index is a measure of the value of the US dollar relative to a basket of foreign currencies. The currencies used to calculate this index are the euro (FXE), the Japanese yen, the Canadian dollar (FXC), the British pound (FXB), the Swedish krona, and the Swiss franc (FXF). The base year for this index is 1973, and the base began at 100.
Mixed US economic data added further weakness
The US economic data that were reported last week remained a mixed bag. Durable goods and home sales data were disappointing. A better-than-expected revision to 1Q17 GDP from 0.7% to 1.2% helped stabilize the dollar before the long weekend. As per the Commitment of Traders report's calculations by Reuters, speculators cut their US dollar long positions in the previous week by $5.2 billion to the lowest level since September 2016.
A make or break week ahead for the US dollar
The falling US dollar has been welcomed by US industries because it's made US exports competitive, but is its weakness a reason to worry?
A country's currency's relative strength reflects the fundamentals of its economy. Expectations of strong growth are reflected in higher premiums for its currency. The US dollar has rallied since the US elections in November 2016, but it's been struggling to gain ground for the past few weeks. This struggle could be a sign of impending investor fatigue, which could result in a fall in risk appetite.
Next week's non-farm payroll data, if positive, could help the dollar to recover. Otherwise, there may be further weakness leading up to the Federal Reserve's meeting on June 14, 2017.
In the next article, we'll analyze how fixed-income markets performed last week.